Then And Now: What's The Latest With Your Favorite Sitcom Stars?
In a crazy world, it is always good to unwind by watching funny shows. Throughout the history of Hollywood, we have been consumers of sitcoms, from Seinfeld, Brooklyn Nine-Nine, and Parks and Recreation. Why do we have that tendency to like sitcoms over drama films or series? Psychologists say that this is because there are conflicts inside us that only make sense when we see characters take them on, like how Monica Geller and Rachel Green of F.R.I.E.N.D.S fought over Jean-Claude Van Damme in an episode. Is this the case with you?
So, do you ever wonder what happened to your favorite celebrities when their shows ended? This list will allow you to reminisce about some of the most revered celebrities from the sitcoms that graced our screens. Who among them decided to call it quits and shun Hollywood altogether? Why would he or she even do that? Also, someone welcomed a baby into the family recently. You might also be interested to know who among these celebrities were paid the most, right? Read on to find out more, and enjoy!
Sofia Vergara | Modern Family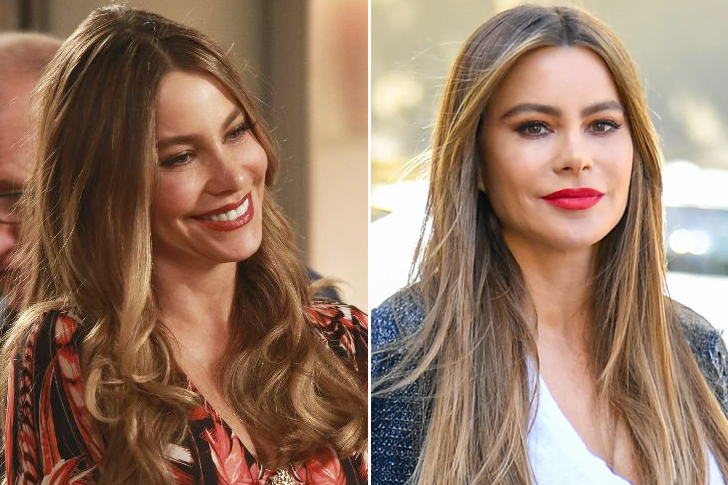 If her earnings are an indication of her talent, we can definitely say that Sofia Vergara is among the best. She has been named the highest-paid actress on American TV from 2013 to 2020, a total of seven years. The actress is famous for her portrayal of Gloria Pritchett, a feisty yet fun-loving Colombian national who became an American citizen with the help of immigration lawyers. The actress received a nomination for her role in the series. Apart from this series, she has also appeared in movies like Hot Pursuit, Meet the Browns and Happy Feet Two.
After Modern Family ended, Vergara began exploring other ventures, and in 2020, it was announced she would join as a judge on America's Got Talent, starting its 15th season. She is still a judge well into the 16th season. Before this, she has also accepted endorsement deals for various beauty-related brands.
Ty Burrell | Modern Family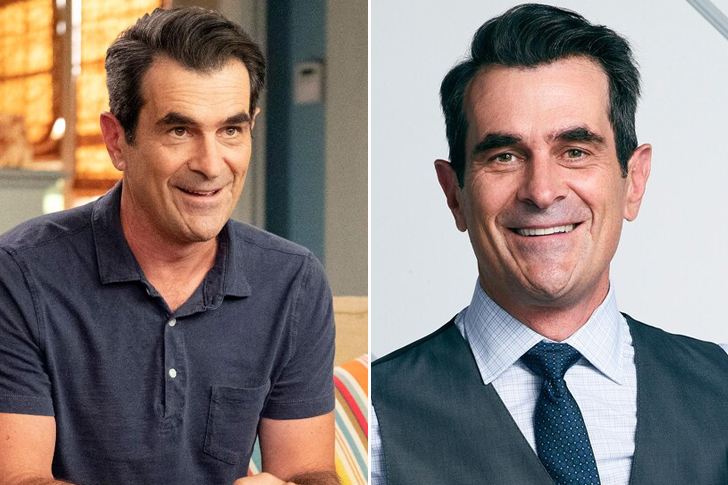 Born to a family of English, German and African descendants, Ty Burrell has good looks and good genes. His strong features are his assets, as is his comedic skills. He started his career in Hollywood in 2000 and had small roles then, including that of Leonard Samson in The Incredible Hulk. Discouraged to a certain degree because his career had not taken off, he almost quit acting altogether–until he got his break.
Burrell eventually auditioned for Modern Family and got cast as the funny Phil Dunphy. This series ran for eleven seasons from 2009 to 2020, which meant that it was Burrel's main source of funds. After the show ended, and with more experience, the actor signed a deal with 20th Century Fox Television so that he could develop his own comedy projects. He also put up his own production company, Desert Whale Production.
Eric Stonestreet | Modern Family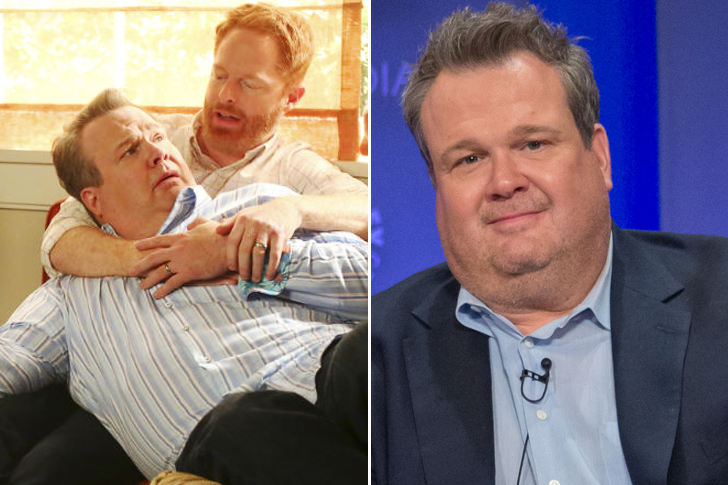 Among many things, Eric Stonestreet dreamt of being a clown during his childhood, and by 11 years old, he made it a reality. At that point, he would perform for kid's birthday parties as the colorful clown, Fizbo. Not long after, during his college years, Eric was dared to audition for a stage play. Well, as it turns out, this eventually sparked his interest in acting.
Having trained in the art of improv, Eric then made his way into the entertainment industry. Among his many acting gigs, the actor is most known for his performance as Cameron Tucker in the sitcom Modern Family, where he also had the chance to reprise his childhood creation, Fizbo the clown. Besides continuing his acting career with projects such as The Loft and Identity Thief, Eric is also fond of attending sporting events. With that said, it comes as no surprise he recently spent some investment money on the MLB's Kansas City Royals.
Jesse Tyler Ferguson | Modern Family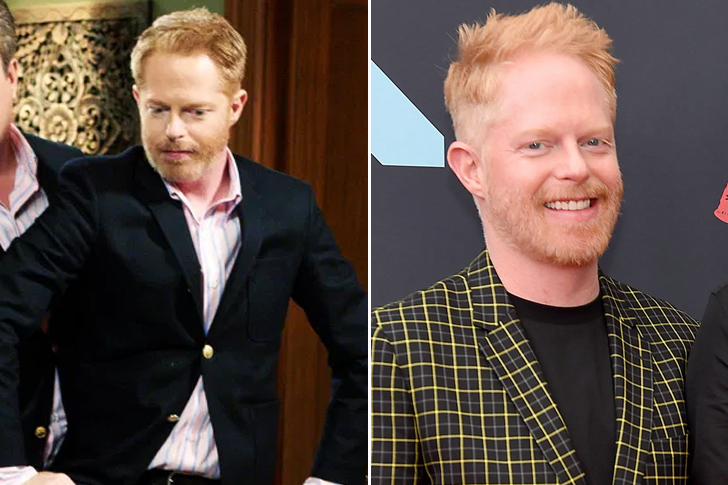 At just eight years old, Jesse Tyler Ferguson was already set on becoming an actor. A few years later, after finishing high school, Jesse continued honing his talents at The American Musical and Dramatic Academy. At that point, he also made his way into the theater scene, performing in stage plays such as A Midsummer Night's Dream. After a few more stints on the stage, Jesse eventually added on-screen roles to his resume.
Among his most notable on-screen roles would be Mitchell Pritchett, a lawyer on the TV show Modern Family. Thanks to his performance, the actor's efforts were acknowledged with five consecutive award nominations for Outstanding Supporting Actor in a Comedy Series from the Emmys. Throughout the show's run, spanning from 2009 to 2020, Jesse has appeared in other projects, including shows such as So You Think You Can Dance, Project Runway, and Nightcap. He also returned to the stage with performances in The Producers, Spamalot, and A Comedy of Errors.
Julie Bowen | Modern Family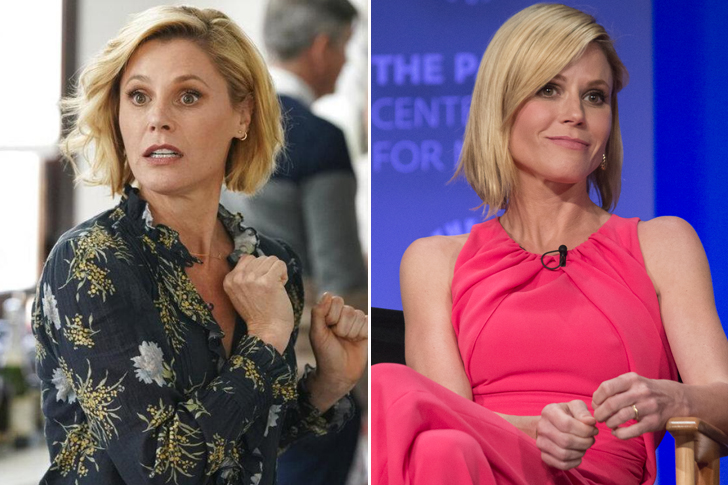 Like many aspiring celebrities, Julie Bowen took acting classes before making her way into the entertainment industry. Her earlier stints in the business were for shows such as Class of '96, Runaway Daughters, Loving, and movies like An American Werewolf in Paris, Multiplicity, and Happy Gilmore.
Along the way, she also worked on other titles, including the medical drama ER and the legal comedy-drama Boston Legal, where she portrayed attorney Denise Bauer. Among her many on-screen appearances, however, Julie is most known for her role as Claire Dunphy on the sitcom Modern Family. Throughout her time on the show, spanning from 2009 to 2020, the actress won six Primetime Emmy Awards back-to-back, winning two of them. Besides the show, she's also appeared in Jumping the Broom, Horrible Bosses, and Hubie Halloween. With the actress still set to appear in the upcoming comedy film, Mixtape, it's safe to say fans will still see more of Julie in the coming years.
Ed O'Neill | Married… With Children & Modern Family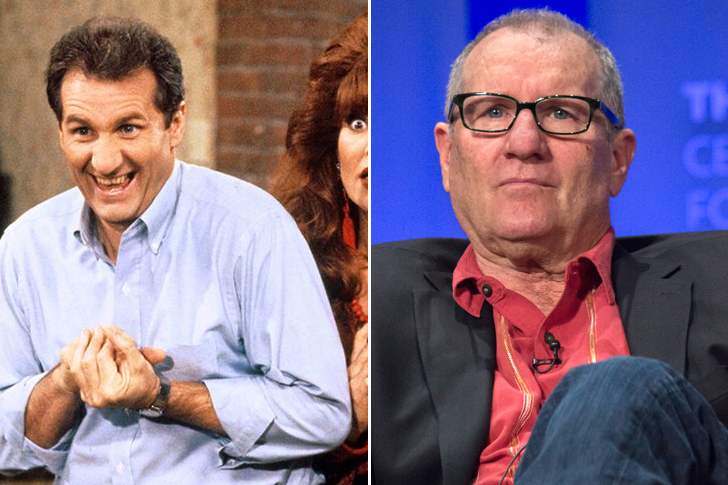 Most of the time, actors get their spot on a show or movie by auditioning. Although this usually means they need to say a few lines in character, sometimes, a gesture is already convincing enough. Well, such was the case for Ed O'Neill when he auditioned for the show Married… with Children.
After a brief run as a college football player, Ed set his sights on acting and joined his university's theater program. He then had the chance to perform in more than a few stage plays and shows before finally auditioning for Married… with Children. For the crew's approval, all Ed did was sigh, slump his shoulders, and walk towards the home's front door. Turns out, that was more than enough to know he was the perfect fit for the show's protagonist, Al Bundy. Since then, the actor has taken credit for working on projects such as Modern Family, the Wayne's World movies, Little Giants, and a voice-acting gig for Finding Dory.
Jim Parsons | The Big Bang Theory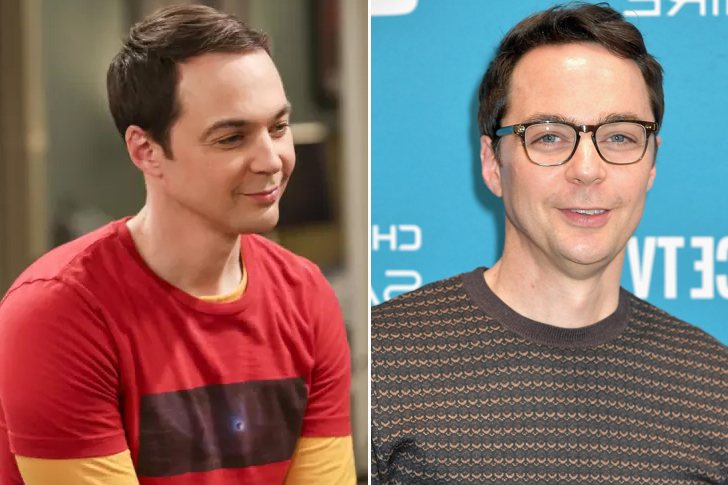 Prior to becoming Dr. Sheldon Cooper in The Big Bang Theory, Jim Parsons first played Tim in the movie Garden State. He was also involved with stage, having appeared in the 1993 France-set play, The Balcony. His most lucrative project, however, was TBBT, where he initially earned $60,000 per episode but was bumped to $1.2 million per episode during the last few seasons. With that amount, we can only imagine how much he set aside for investment money.
Before TBBT ended, Parsons already had the inclination to quit the program due to multiple commitments and personal struggles. Since he has more time in his hands now, Parsons is now trying his hand at producing, and has appeared as himself on the BBC series, Staged. For his efforts, the actor has received multiple accolades, including the People's Choice Award for Favorite Comedy Actor.
Johnny Galecki | The Big Bang Theory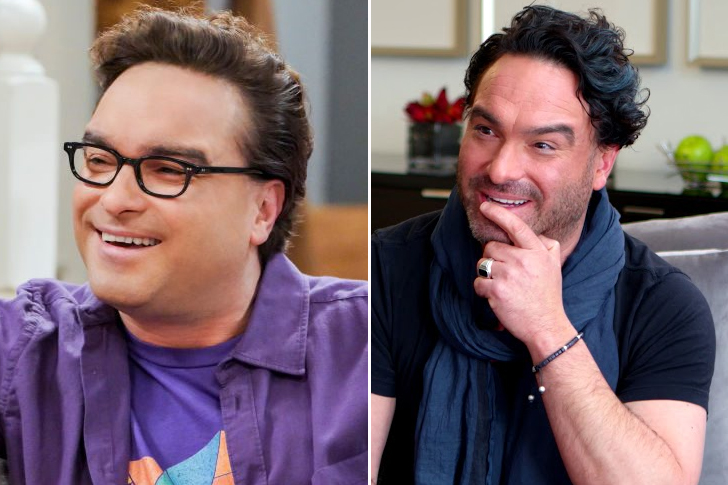 If Dr. Sheldon Cooper is the ultimate geek in The Big Bang Theory, we can say that Dr. Leonard Hofstadter, played by Johnny Galecki, is the milder nerd. He can display a degree of interpersonal skills, which Sheldon obviously lacks. Galecki, like Parsons, started with a $60,000 per episode fee, which later increased to $1 million per episode. TBBT, however, was not Galecki's first sitcom since he also appeared on Roseanne.
After TBBT ended in 2019, he slowed down a bit and appeared only on a couple of projects, including four episodes on The Conners and A Dog's Journey. He is most likely going to focus on family life and worry about water or electricity bills as he builds his family with Alaina Meyer and their new baby, who arrived in December 2019. We can always look forward to more films or even sitcoms from the actor, perhaps once his baby is a bit older.
Kaley Cuoco | The Big Bang Theory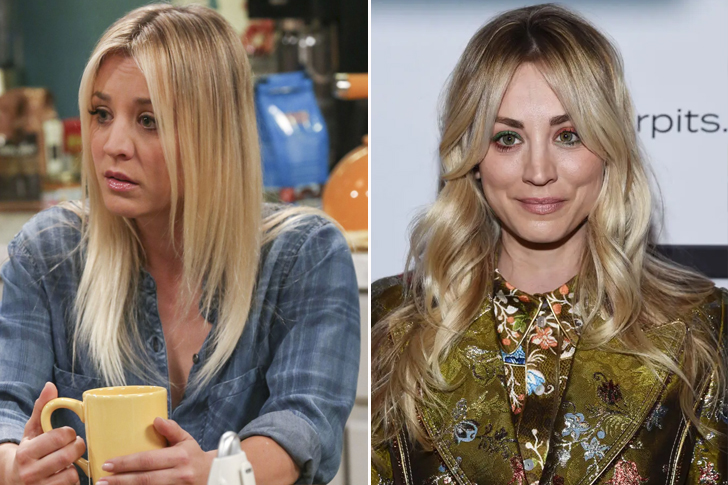 Playing the primary female character in the sitcom The Big Bang Theory is none other than Kaley Cuoco. Her character, Penny Hofstadter, befriended the other two leads, Sheldon Cooper and her future husband, Leonard Hofstadter. During the last few seasons of the show, Cuoco earned $1 million per episode. So when the series ended, it was natural for the actress to freak out because she would be losing that per episode pay.
Of course, she has investments and other projects, too, but it really was unnerving for her to lose that kind of income. She focused on earning more by becoming an executive producer for the comedy show Pretty. She also joined the cast of the movie The Man from Toronto as its leading lady. Another project she would be part of is the limited series Doris Day: Her Own Story, where she would play the titular character as well as be the executive producer.
Simon Helberg | The Big Bang Theory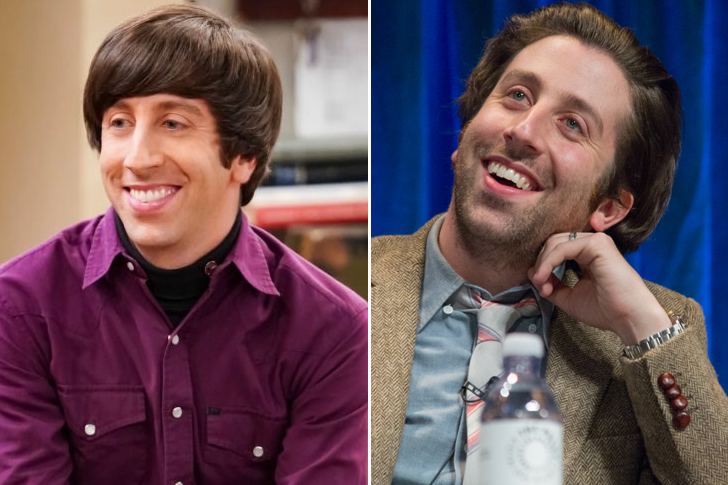 Critics' Choice Television Award winner Simon Helberg is known to many as Howard Wolowitz, one of the supporting characters in The Big Bang Theory. He is often ridiculed by the rest of the gang for not having a doctorate degree, while the rest are all Ph.Ds. Being part of TBBT has made him a household name, like the rest of the cast. Helberg is a rather experienced comedian, having appeared in various series and films like MADtv, Annette and Good Night.
Now that TBBT has ended, it looks like he is moving over to the big screen, starting with Annette. It is not a total surprise move, considering he has also appeared in other films before. In Annette, Helberg plays the role of "The Conductor" in this particular movie. When not making a movie or involved in a project, Helberg likes staying in his multi-million Los Feliz house in California.
Kunal Nayyar | The Big Bang Theory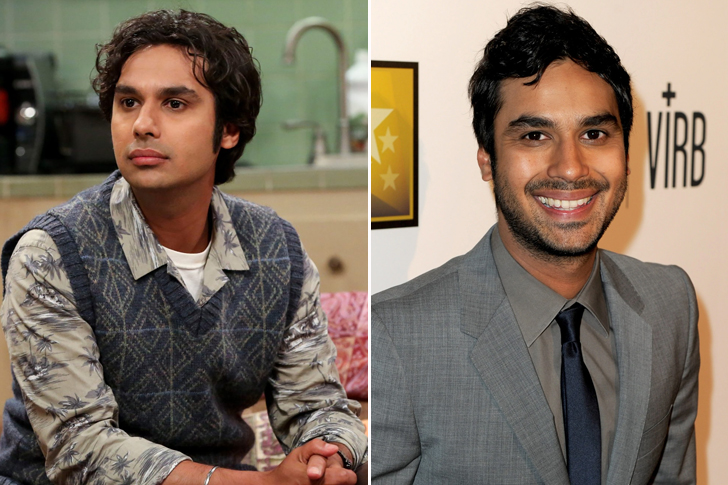 We all have that one friend who could not correctly construct a sentence in front of girls–but Kunal Nayyar's character, Rajesh Koothrappali, takes it to another level as he literally cannot speak to women unless under the influence. He is also a rich person, with much of his investment money coming from his parents in India. In real life, Nayyar is wealthy on his own terms, having been named the third-highest paid TV actor in 2015 and 2018.
Recently he appeared on Criminal: UK, a Netflix production. This series also features other famous names from the US. He appeared on the final episode of the second season, which was released last August 2020. Since his voice and accent is well-known, he was also heard in Trolls World Tour, a musical comedy film that was released in 2020. Nayyar also played the role of Mr. Mills in Think Like a Dog. Overall, the actor appears to be busy even after TBBT.
Mark Harmon | The Big Bang Theory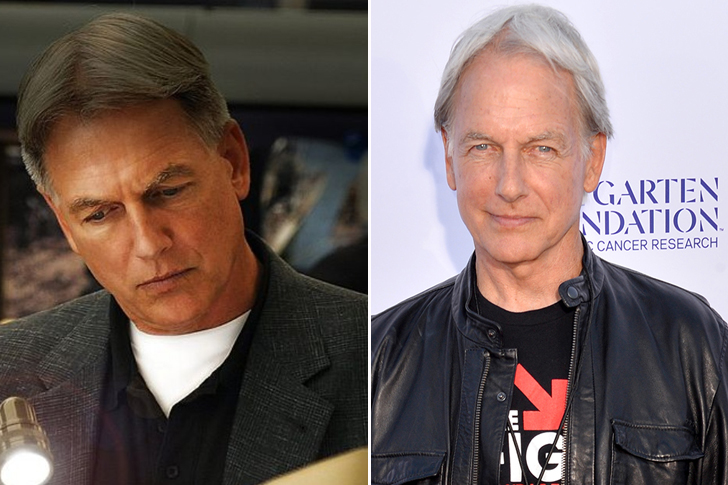 In what many The Big Bang Theory fans consider as a weird crossover, Mark Hammon was mentioned by Penny in one of the episodes. She shared that she got a role in NCIS, in which Harmon is the main character, and they were in a restaurant. Penny claims to have gotten to flirt with the NCIS actor, but sadly, when they watched the episode, the scene had been cutoff, much to Penny's disappointment.
There is also some talk as to why Jim Parsons was getting paid more than Harmon, considering the latter's more prominent stature and experience. This was perhaps one factor why Harmon got tired of Hollywood and decided to leave for good. He now lives happily with his family in Montana. Well, with a ranch, a loving wife, a home security system and money in the bank, there is nothing to wish for, really.
Mayim Bialik | The Big Bang Theory
Wife to Sheldon and a friend to the others, Amy Farrah Fowler, is perhaps one of the least appreciated in the series. Mayim Bialik, after all, is a neuroscientist like her character. She portrayed the role of an unconventional woman who has a rather strange choice in men. Her beauty is also different, as Sheldon finds her beautiful when others might not, given what society considers pretty.
Despite being among the main stars, Bialik did not receive a seven-figure salary. Her income was $425,000 towards the end of the season. We think, though, that with her excellent money management skills, she could save much of her money. Besides, she also has a number of projects lined up, including hosting the 2020 Celebrity Show-Off. Her voice as Amy Farrah Fowler was also heard in Young Sheldon. This is on top of being the lead character on Call me Kat this 2021.
Melissa Rauch | The Big Bang Theory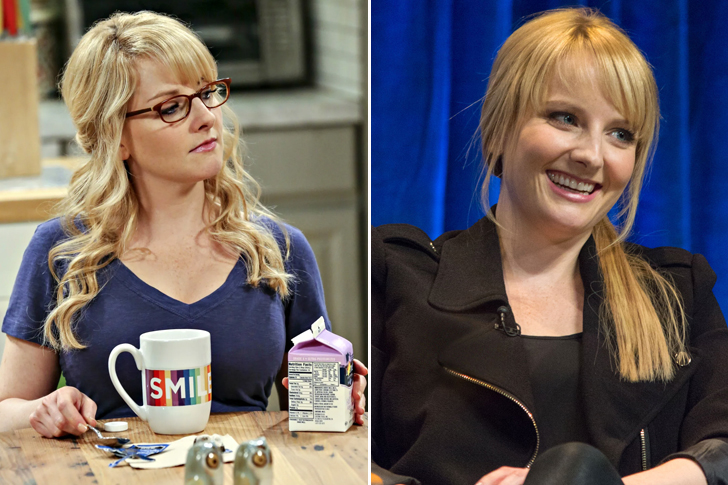 That shrill voice of Melissa Rauch, who plays Bernadette in The Big Bang Theory, is so irritating at times. Did you know, though, that her voice in real life is really not that nasal and high-pitched? The actress also based her voice on a family member. She is a funny lady, even when she is not making jokes. This means that comedy is natural to her.
Also, just like her character on the sitcom, Rauch did work as a waitress prior to becoming a star. Now, of course, she has money in the bank. Having recently given birth to a baby boy, it looks like the actress would veer away from Hollywood for the time being and focus on taking care of her newborn instead. Her touching post on Instagram gave credit to those who helped her during the delivery of her loving boy, Brooks.
Jennifer Aniston | F.R.I.E.N.D.S.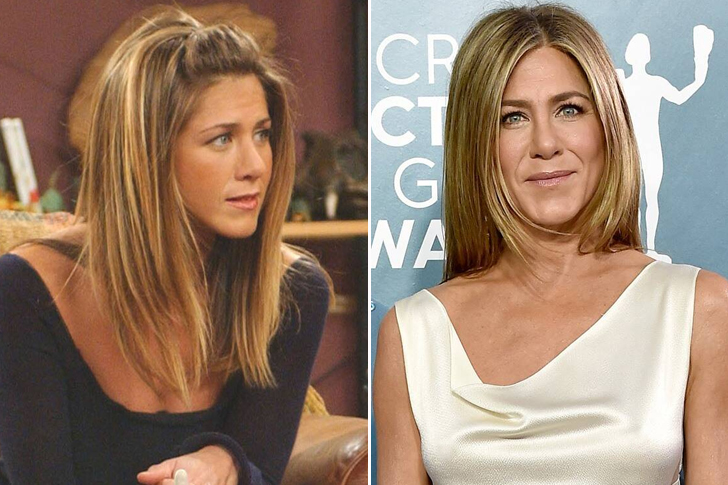 An A-lister for decades now, Jennifer Aniston has been immortalized for her role as Rachel Green in the sitcom F.R.I.E.N.D.S. This series ran for ten years, from 1994 to 2004. She received a Primetime Emmy, a Screen Actors Guild and a Golden Globe award for her portrayal of Rachel Green.
When the sitcom ended, Aniston continued her success streak. She appeared in various movies, including Friends with Money, The Bounty Hunter and Love Happens. With the intent of trying her abilities, she also became a producer and a co-director. What keeps Aniston busy nowadays is her projects involving The Morning Show, which began in 2019. She has also collaborated with HBO Max on the reunion special for F.R.I.E.N.D.S., The One Where They Got Back Together, scheduled to be released soon. Fans had been clamoring for a reunion, and we give them credit as this now has become a reality.
Courteney Cox | F.R.I.E.N.D.S.
Courteney Cox received seven Screen Actors Guild nominations for her role as Monica Geller in the famous sitcom F.R.I.E.N.D.S. She won one, and that led to more recognition down the line. Before becoming Monica, Cox was part of another sitcom, Family Ties, which aired on NBC. What many consider her breakthrough, however, was F.R.I.E.N.D.S. and Scream. In the latter, she played the role of Gale Weathers.
When her role as Monica ended, Cox appeared in various movies and TV shows. She also forayed into directing and producing movies. Recently, there are talks of her going back to the small screen in a Starz show, Shining Vale. We can also catch a glimpse of her personal life on Instagram, where she posted a picture of her daughter, who looks rather different from her. Nonetheless, we are sure that Cox is making the necessary investments so that her daughter could have a good life.
Lisa Kudrow | F.R.I.E.N.D.S.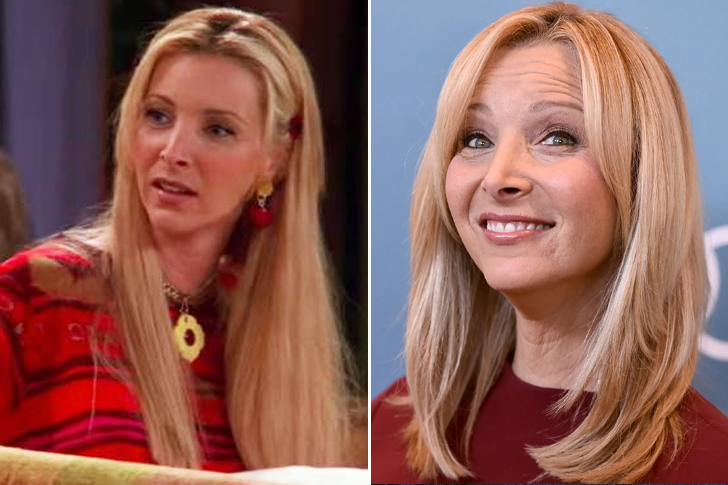 After she made appearances in various 1980s TV shows, Lisa Kudrow got a big break with F.R.I.E.N.D.S., where she played the role of Phoebe Buffay. Due to her excellent acting skills, she received nominations for this role and won a Primetime Emmy and Screen Actors Guild award. This was no surprise because Kudrow was already a multi-awarded actress, but after her stint in F.R.I.E.N.D.S., she solidified her standing as one of the greatest female characters on TV.
Kudrow will join the original cast for the reunion special commissioned by HBO Max. It is set to be released in 2021. Apart from that, her being a producer is what keeps the actress busy these days. She spends time in her LA home, which for sure has the latest home security system, when not doing production work.
Matt LeBlanc | F.R.I.E.N.D.S.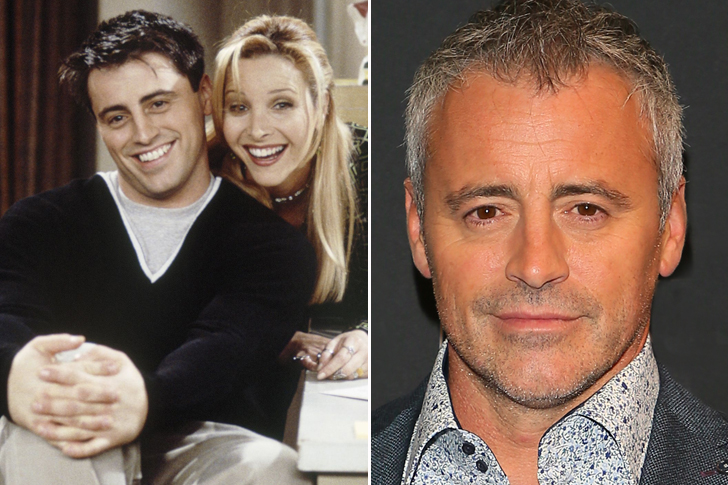 Matt LeBlanc's character, Joey Tribianni on F.R.I.E.N.D.S. was so loved that there was even a spinoff series titled Joey. The actor has also received three nominations for the Primetime Emmy Awards. Drawing a per-episode salary of $100,000 from the set, LeBlanc is certainly given credit for his role. That amount was rather huge in the 1990s, enough to pay the student loan of one person.
After the sitcom ended, LeBlanc entered a hiatus, but in 2011 he appeared as a fictionalized version of himself on the TV series, Episodes. This won him a Golden Globe. Nowadays, the actor is busy with the reunion collaboration with HBO Max, The One Where They Got Back Together, a project that came after he starred and produced Man with a Plan. Everyone is looking forward to the reunion show because it would dictate how the original cast members would go moving forward.
David Schwimmer | F.R.I.E.N.D.S.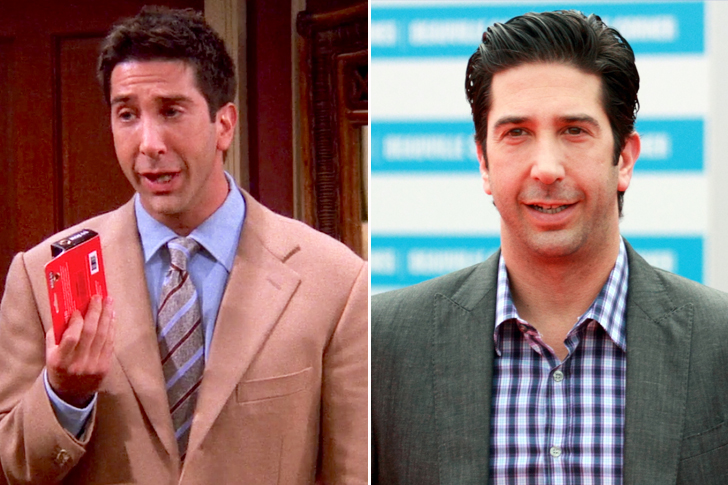 Although David Schwimmer had his first acting experience when he was ten years old, it's safe to say his love for the art rose to even higher degrees a few years after, when he attended a workshop taught by Sir Ian McKellen himself. With an experience as unforgettable as that, it comes as no surprise David eventually pushed through with honing his passion.
His early stints in the entertainment industry include on-screen roles for A Deadly Silence, Flight of the Intruder, and NYPD Blue. Even so, it wasn't until he starred in the now-classic TV show Friends that David finally garnered widespread fame and recognition for his role as Ross Geller. Since then, he has worked on other projects such as the miniseries Band of Brothers, Six Days, Seven Nights, and Nothing but the Truth. Glad to know the actor is still quite active in the business, and it seems it'll stay that way for many more years.
Matthew Perry | F.R.I.E.N.D.S.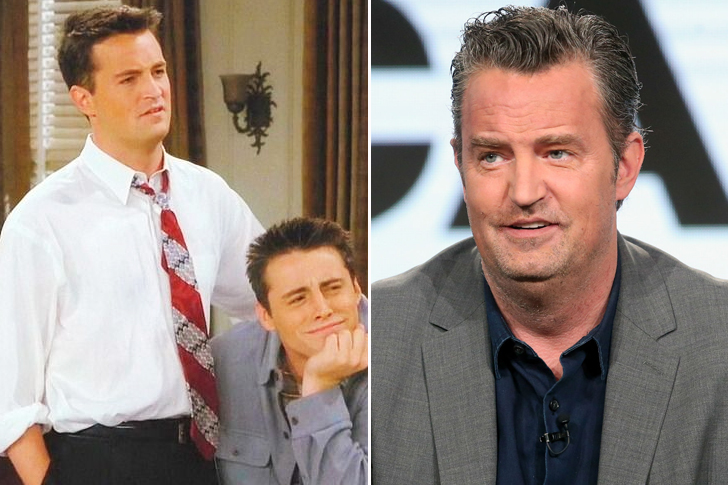 After some time playing as a junior tennis player during his childhood to early teens, Matthew Perry eventually pursued a career in acting. With that said, his earlier works were for titles such as Second Chance, which then became Boys Will Be Boys, Growing Pains, and Sydney. Not long after, Matthew auditioned for a role that – perhaps without his knowledge – eventually became one of the most notable acting credits he has ever landed.
Thanks to his performance as Chandler Bing on the TV show Friends, Matthew earned both worldwide fame and fortune – by 2002, Matthew and his co-stars reportedly earned $1 million per episode! Although he has also dabbled in more serious projects over the years, notably in titles such as The West Wing and Ally McBeal, it sure seems like comedy still has a special place in the actor's life. In more recent years, Matthew worked on three sitcoms: Mr. Sunshine, Go On, and The Odd Couple.
Larry David | Seinfeld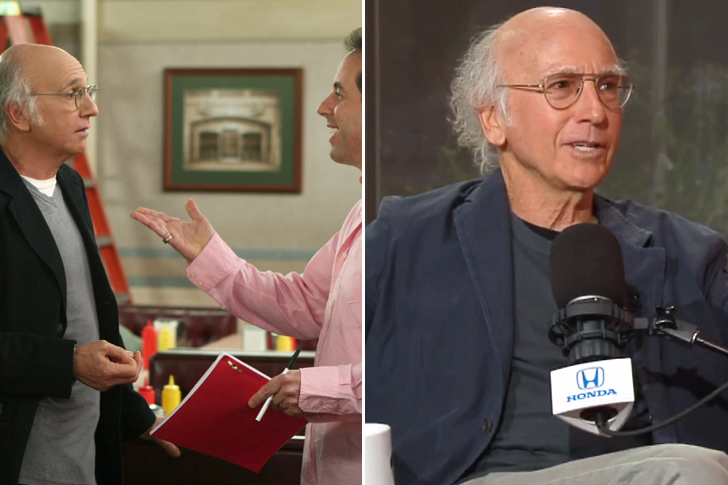 Talents and skills can be discovered at just about any moment in our life. For Larry David, he realized he was a natural comedian during his college years, before graduating with a bachelor's degree in history. After college, while working a variety of jobs, such as a limousine driver and historian, Larry also began his journey into the comedy scene.
His earlier stints in the entertainment industry were in shows such as Saturday Night Live and Fridays. During this period, Larry was also boiling up an idea for a new project. Well, after a couple of polishing and preparing, it eventually became the show many sitcom fans know and love today as Seinfeld. For his work, Larry won two Primetime Emmy Awards, one of which is for Outstanding Comedy Series. Since then, he's worked on other shows, such as returning to Saturday Night Live, and his very own highly-acclaimed Curb Your Enthusiasm.
Jerry Seinfeld | Seinfeld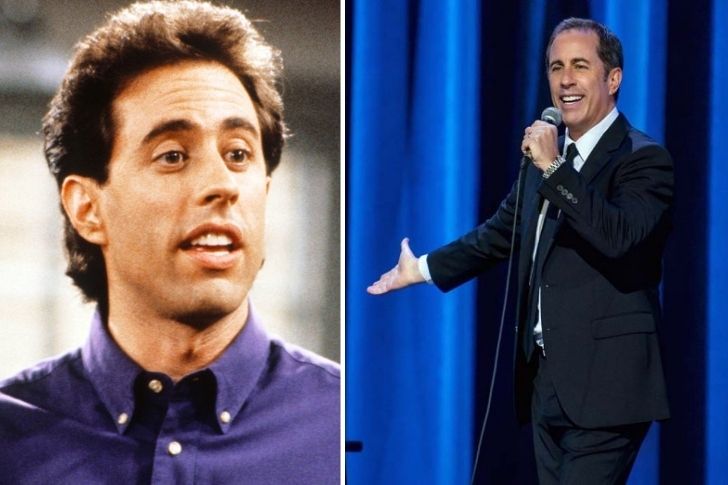 Seinfeld would never be complete without Jerry Seinfeld himself. The 66-year-old star didn't only star the series, but he also created and wrote the show in collaboration with another comedy genius, Larry David. Here, he played a semi-fictionalized version of himself, and it turned out to be a great success.
The show got credits for being one of the most acclaimed and famous American sitcoms of all time, opening a lot of doors for Seinfeld in the business. The writer became Comedy Central's 12the greatest stand-up comedian of all time. He then produced and led several other projects, like Bee Movie, The Marriage Ref, Comedians in Cars Getting Coffee, and more. This results in receiving a number of accolades and even Grammy Award nominations. His last project on his IMDb page is Jerry Seinfeld: 23 Hours to Kill TV special, to which he served as the executive producer in 2020.
Jason Alexander | Seinfeld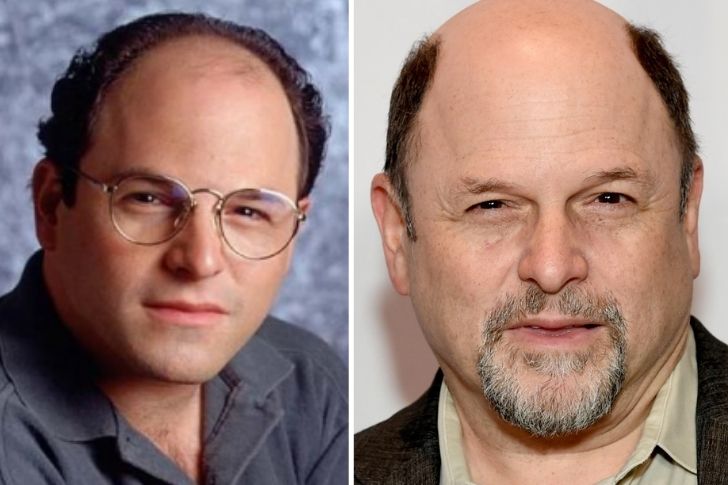 Another integral part of Seinfeld aside from Jerry Seinfeld himself is Jason Alexander. Here, he played the role of George Costanza, Jerry's best friend. The 61-year-old star gets a heap of praises until today for perfectly portraying the character—23 years after the show ended. No wonder he received a total of seven consecutive Primetime Emmy Awards and four Golden Globe Awards nominations.
He continuously has a number of acting credits here and there. Alexander was also part of the iconic 1990 film Pretty Woman and The Hunchback of Notre Dame, among others. Aside from dominating the big and small screens, he has had an active career as a stage actor, doing several Broadway musicals, which earned him a Tony Award and Grammy Award. These things only proved how good an actor Alexander is, whether as a comedian or a serious one.
Michael Richards | Seinfeld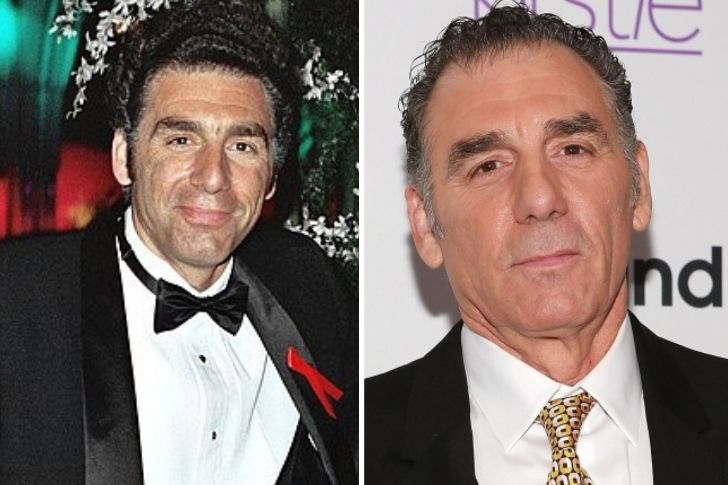 Michael Richards is one of Seinfeld's original cast members, along with Jason Alexander, Jerry Seinfeld, and Julia Louis-Dreyfus. He played the role of Cosmo Kramer, the neighbor of Jerry's eponymous character and often referred to by his last name. Like other stars of the series, the 71-year-old actor showed incredible acting talent and comedic skills, which earned him three Primetime Emmy Awards for Outstanding Supporting Actor.
He then went on to have his own sitcom, The Michael Richards Show. Although it ended just after two months, Richards returned to doing stand-up comedy stints. He then retired in 2007 after a degree of controversy but later returned to reunite with his Seinfeld co-stars in an episode of Curb Your Enthusiasm in 2009. Richards officially returned to acting in 2013 to play the role of Frank in another sitcom, Kirstie. He then did Faith, Hope & Love in 2019.
Ricky Gervais | The Office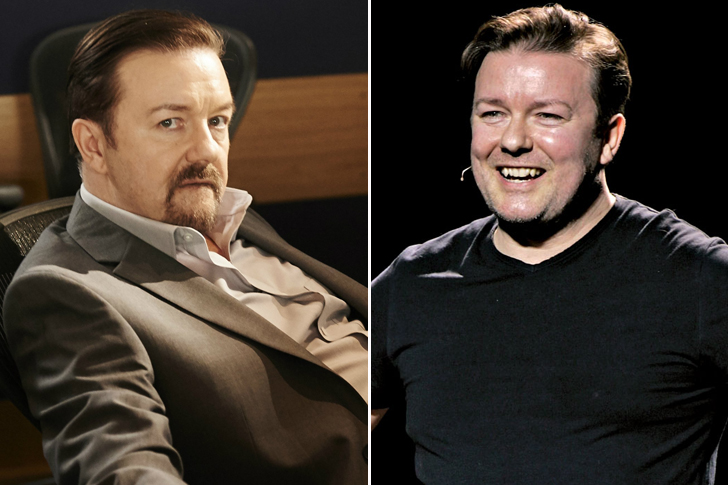 Throughout his career, Ricky Gervais has worked in a variety of fields in the entertainment industry, including but not limited to music and podcasts. What he is most known for, however, is his career in films and, most especially, TV shows.
Among the many works he now has under his credit, it's safe to say it was his work in the original version of the mockumentary sitcom The Office that garnered him widespread fame and recognition. Since then, the comedian has ventured to other projects such as Ghost Town, Muppets Most Wanted, and the Night at the Museum trilogy. His most recent outing is the comedy series After Life, where, besides acting, he also directs, writes, and executive produces. Thanks to all his work, not only does he have the respect of his colleagues and fans, but he has also received more than a couple of rewards along the way, including two Emmys, a Golden Globe, and seven BAFTAs.
B.J. Novak | The Office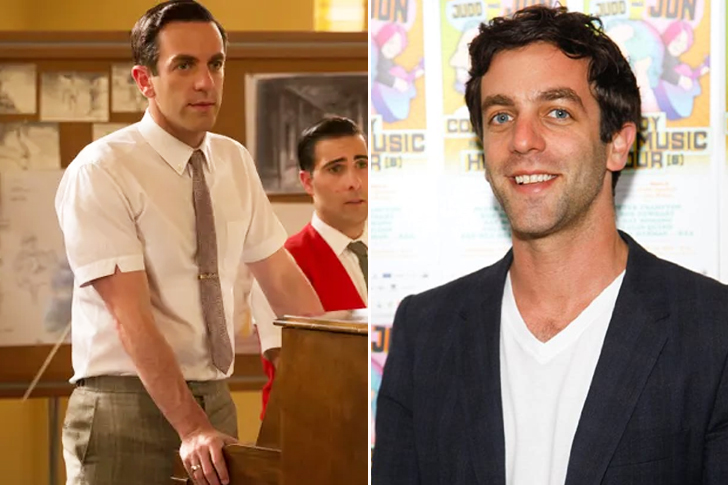 Sometimes, life has a funny way of letting us reconnect with old friends. When BJ Novak was in high school, he met a fellow student named John Krasinski. The two eventually finished their studies and went their separate ways, with Novak becoming a comedian after graduating from college. Besides going on stage and making audiences laugh, he's also written for the sitcom Raising Dad and appeared in Punk'd and Premium Blend. Not long after, besides landing a career-defining gig, Novak got to work alongside his former schoolmate Krasinski.
Thanks to his stand-up comedy career, Novak got a chance to star in the now-famous show The Office, appearing alongside Krasinski among other cast members, including Steve Carrel and Mindy Kaling. Since then, he has also made investments in a writing career, having released titles such as One More Thing: Stories and Other Stories and The Book With No Pictures.
Mindy Kaling | The Office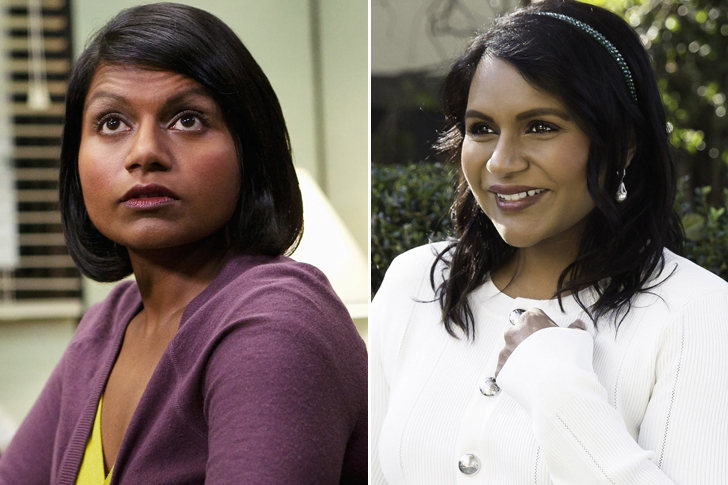 Besides studying for her college degree, Mindy Kaling was also quite fond of joining extracurricular activities. A classics major, Mindy was a member of the college's a capella group, improv troupe, and she wrote a couple of entries for its humor magazine and daily newspaper. After graduating, she slowly made her way into the entertainment industry, doing behind-the-scenes work and performing stand-up comedy gigs.
After a few more stints as a stand-up comedian and stage actress, Mindy eventually got the attention of one producer planning to adapt Ricky Gervais' hit series, The Office. Well, it didn't take too long before she finally landed a spot in the show, not only as an actress, but also as a writer and executive producer – she also directed some episodes. With the series garnering her further praise and recognition, Mindy has since dabbled in other projects, notably her own shows, Champion and The Mindy Project.
Jenna Fischer | The Office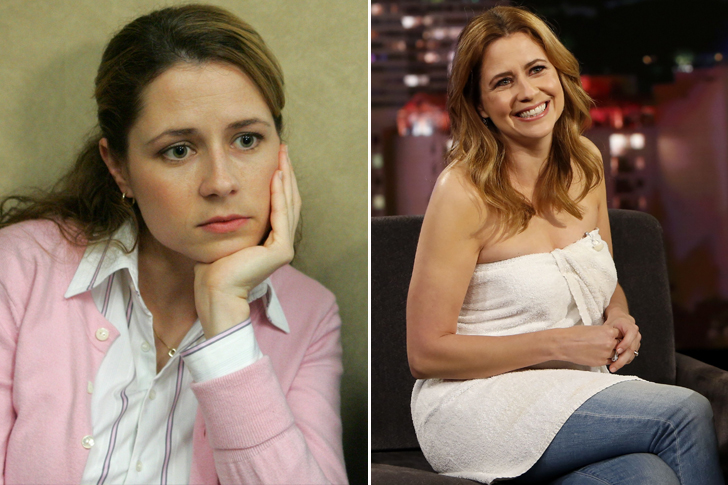 At six years old, Jenna Fischer got her first experience in acting when she joined a workshop taught by her mom. By the time she was in college, Jenna performed stage plays alongside theater groups and landed small parts on TV shows and indie films. Although she had a hard time looking for her big break, we're glad to know that the hurdle didn't do much to drain this actress' gas tank.
After creating her very own film, an award-winning mockumentary titled LolliLove, Jenna was then called for a gig that, in retrospect, has undoubtedly brought her fame to greater heights. That gig was as Pam Beesly on the TV show The Office. The role eventually earned her a Primetime Emmy Award nomination for Outstanding Supporting Actress in a Comedy Series. With that said, she has since worked on other projects, but the most notable one is Office Ladies, a podcast she does alongside Angela Kinsey.
Craig Robinson | The Office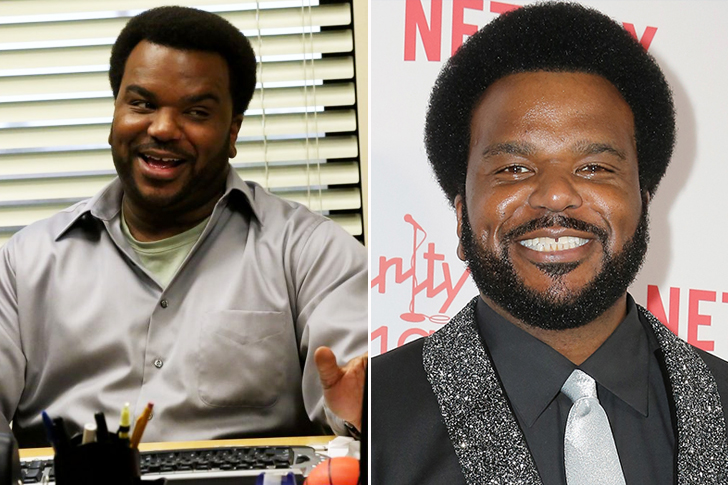 For his journey into the entertainment industry, Craig Robinson did stand-up comedy gigs and took acting and improv classes during his college years. After his stint as a stage comedian garnered him more and more attention, Craig eventually landed an opportunity to have small parts in shows such as Friends, Arrested Development, and The Bernie Mac Show.
After a couple more minor roles to his name, Craig appeared on The Office's first season as Darryl Philbin. Although he was only in one episode, the actor was later promoted to a series regular, from season four until the show's final episode in 2013. Since then, Craig has garnered a high degree of recognition from fans, which recently became more apparent with his part as Doug Judy in Brooklyn Nine-Nine. Other projects he's worked on along the way include Hot Tub Time Machine, This Is The End, and Dolemite Is My Name.
Rashida Jones | The Office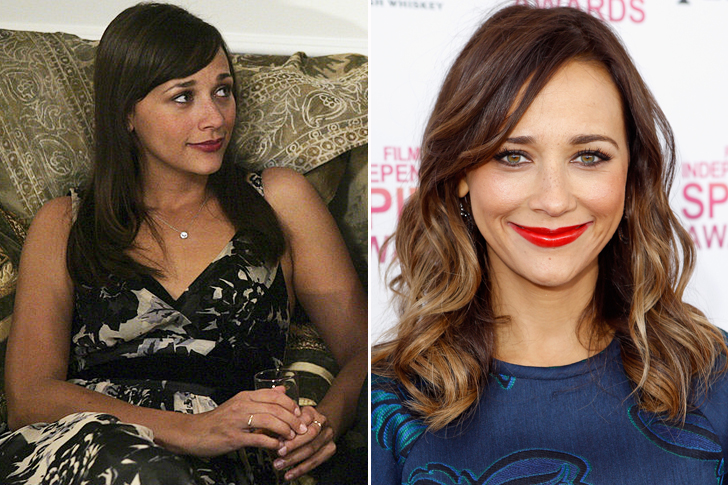 With her parents both being well-known figures under the Hollywood spotlight, it comes as no surprise Rashida Jones eventually followed suit. Initially wanting to be a lawyer, Rashida was quite fond of engaging in extracurricular activities throughout her time in university. Besides doing behind-the-scenes work and serving as a musical director for an a cappella group, she also had the chance to perform in more than a few stage plays.
After graduating, Rashida made her way into the entertainment industry. Among the many projects she's worked on, one of the actress' most recognized parts would undoubtedly be as Karen Filippelli in The Office. Along the way, she also landed a role in Parks and Recreation, a show made by the creators of The Office. With that said, she's also done directorial work, with her most notable piece being the documentary film about her father titled Quincy, which won a Grammy for Best Music Film.
Steve Carell | The Office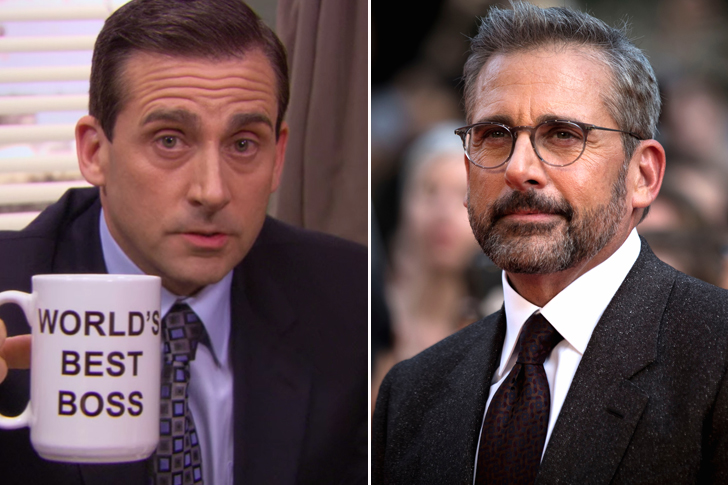 While studying for his history degree, Steve Carell was also a member of the university's improvisational comedy troupe, a DJ for its campus radio station, and a goalie for its hockey team. Although he undoubtedly had a fun time working on all three, it sure seems like his experience with the former impacted his career choice the most.
After a couple of early gigs in the entertainment industry, Steve eventually garnered widespread fame and recognition for his performance as Michael Scott in the TV series The Office. In fact, it was so highly acclaimed that it even earned him a Golden Globe Award for Best Actor – Television Series Musical or Comedy! To this day, Steve is still quite active in the business, working on newer projects such as the animated Despicable Me franchise, Angie Tribeca, The Morning Show, and Space Force.
John Krasinski | The Office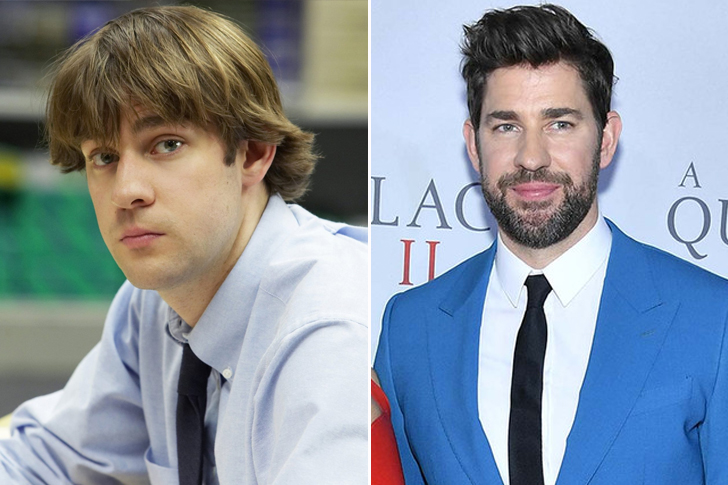 With his first experience in acting being in sixth grade for a school production of Annie, John Krasinski soon followed it up with a play he co-starred and made alongside BJ Novak. After finishing his studies as an English major, John immediately pursued an acting career, appearing in commercials and guest roles in TV shows. At that point, he was also working as a waiter to cover whatever personal loans he had. Thankfully, all his hard work has since paid off.
Not long after, the actor found his breakthrough with the mockumentary sitcom The Office, alongside his high school batchmate BJ Novak. Although the show established his talents as a comedic actor, John further impressed fans, colleagues, and critics with his subsequent works. Among them, perhaps the most notable one would be the highly acclaimed A Quiet Place, a horror-thriller film he directed, co-wrote, and starred in.
Kerry Washington | Scandal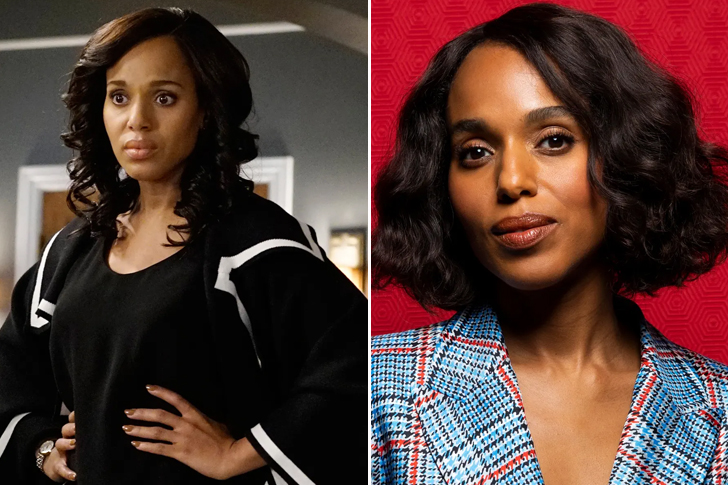 American actress Kerry Washington is also a director and a producer. However, she is popularly known for portraying the role of Olivia Pope in the renowned drama show, Scandal, a political thriller that aired on ABC from 2012 to 2018. Kerry was nominated not once, but twice for her amazing performance. One for a Primetime Emmy Award for Outstanding Lead Actress in a Drama Series and the other was for a Golden Globe Award for Best Actress – Television Series Drama.
Kerry is not only successful in the career of her choice but she also excelled in school. In fact, she acquired two college degrees when she attended George Washington University. Her double major was in sociology and anthropology. One of her recent projects was the 2020 documentary film, The Fight, where she served as the executive producer. An upcoming action film titled Shadow Force is set to star Kerry and she is also going to produce the film for Lionsgate.
Priyanka Chopra | Quantico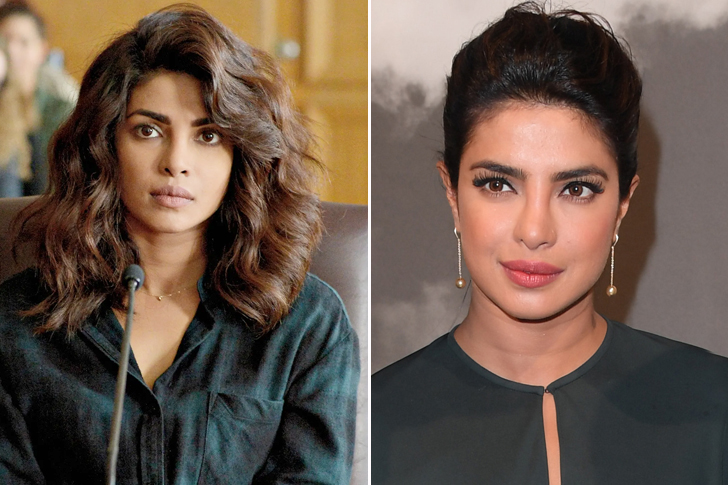 The ever-so-beautiful Indian actress and singer, Priyanka Chopra, is one of the most popular names in the entertainment industry. In fact, she is the highest-paid celebrity in India. She has received several accolades, including five Filmfare Awards, and a National Film Award. From Bollywood to Hollywood, Priyanka rose to prominence. In 2015, one of Priyanka's first American projects was Quantico, a television series about young FBI recruits, which aired from 2015 to 2018.
One of her recent successes was the 2021 film, The White Tiger, which was adapted from the satire novel written by Aravind Adiga. The movie received a nomination at the 93rd Academy Awards For Best Screenplay. She is set to lead in the romantic drama,Text For You, alongside Celine Dion. Her upcoming movies include The Matrix 4. As of 2021, her net worth is a whopping $50 million — she must have a financial advisor who helps her oversee her assets.
Sarah Jessica Parker | Sex And The City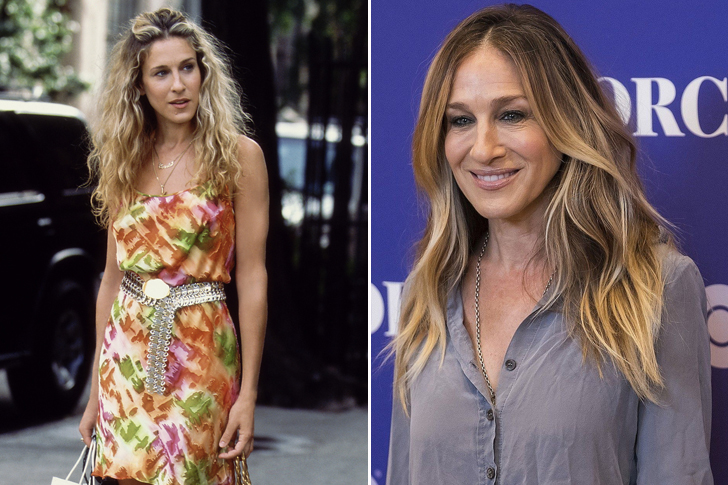 She is an American actress who was born and raised in Nelson, Ohio. Sarah Jessica Parker is now one of the biggest names in Hollywood. She gained public recognition after starring as Carrie Bradshaw in the renowned HBO television series, Sex And The City, which aired from 1998 to 2004. She received numerous accolades for her incredible performance on the show, including four Golden Globe Awards for Best Actress in a Comedy Series and two Emmy Awards. Her net worth is already a jaw-dropping $150 million, and she must have multi-million-dollar property investments all over the world. Most of her wealth comes from her iconic role as Carrie Bradshaw.
Sarah produced and headlined Here And Now, an independent drama. She played the New York City singer back in 2018. Sarah and her husband of 20 years, Matthew Broderick, recently starred in a revival of Neil Simon's Plaza Suite, which played at the Colonial Theatre in Boston.
Kim Cattrall | Sex And The City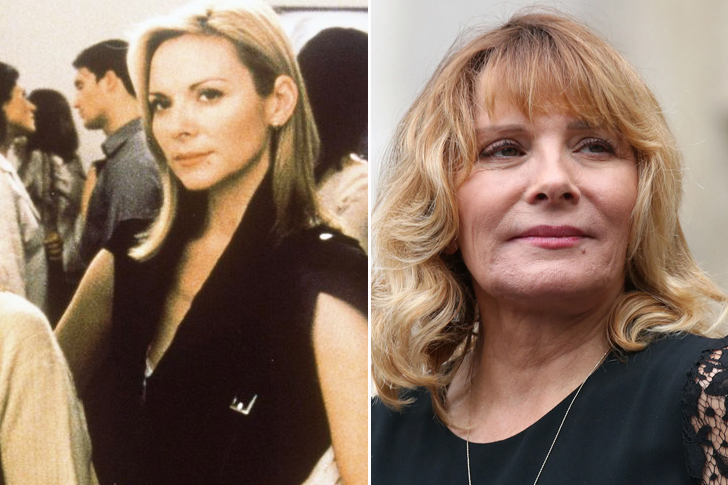 Canadian-American superstar Kim Victoria Cattrall is widely known for playing the role of Samantha Jones on HBOs classic Sex and the City. This television series aired from 1998-2004 and it was a sensational hit. In fact, she garnered four Golden Globe Award nominations and five Emmy Award nominations. Ultimately, she won the Golden Globe for Best Supporting Actress in 2002. Kim also reprised her famous character in the 2008 film Sex And The City and its 2010 follow-up, Sex And The City 2.
She may be 64 years old now, but she looks like she has not aged. Indeed, she is still out working in the entertainment industry. In 2020, Kim did not only star in the critically acclaimed Fox drama Filthy Rich as Margaret Monreaux, she also had a hand in its production. She was given the Icon Award at the 2020 Atlanta television festival for the show. Kim's net worth is staggering at $40 million, and she must have property investments all over the world.
Kristin Davis | Sex And The City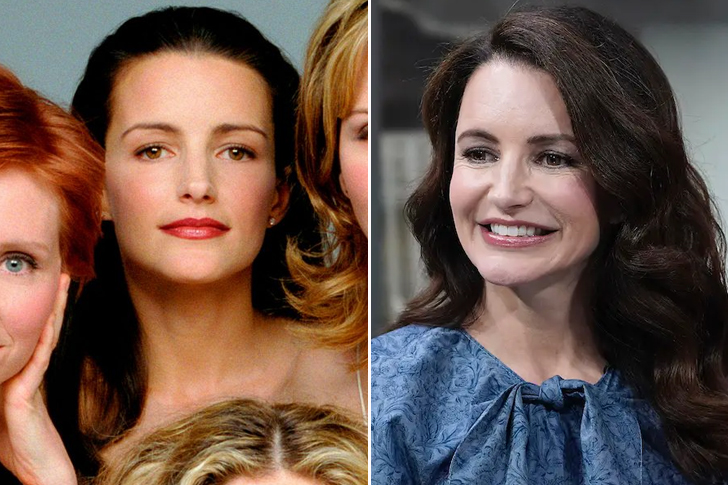 One of America's Greatest actresses will have to be Kristin Davis, thanks to her amazing performance as Charlotte York Goldenblatt in the romantic comedy series we all loved, Sex And The City. This show went on for seven years. She was commended for her performance and was nominated for a Golden Globes and for an Emmy. Sidenote: the series was nominated for 54 awards and has won seven of them. Kristin also reprised her role as Charlotte in the 2008 and 2010 in the movie adaptation of the show.
Born and raised in Boulder, Colorado, Kristin always had a knack for the entertainment industry. In 1987, she got her Bachelor of Fine Arts degree in acting from Rutgers University's Mason Gross School of the Arts. She was destined for the screen. Among her recent works is the 2019 romantic comedy-drama movie Holiday In The Wild, which she also produced for Netflix. Kristin also played the lead role for the 2021 thriller flick, Deadly Illusions, which she also produced.
Cynthia Nixon | Sex And The City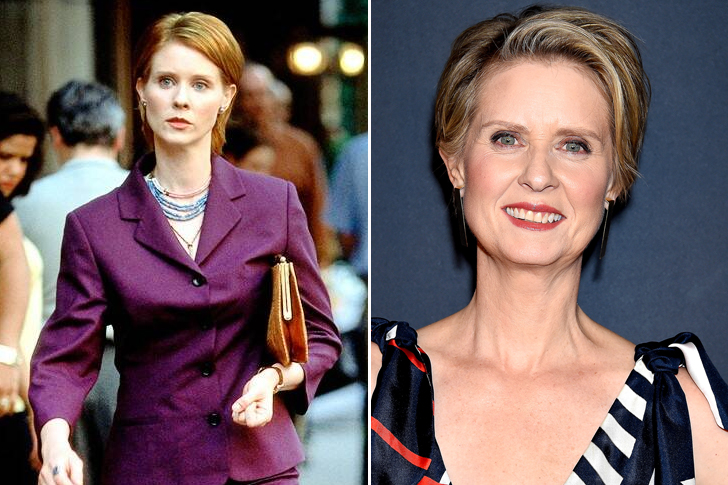 Cynthia Ellen Nixon is one America's most beloved actresses. She gained international fame in the blockbuster HBO series, Sex And The City. She starred in the critically acclaimed show as the lovable Miranda Hobbes. She garnered numerous awards for her impeccable performance, including a Primetime Emmy Award for Outstanding Supporting Actress in a Comedy Series in 2004. Cynthia also came back to reprise her role as Miranda for the films Sex And The City and Sex And The City 2.
Cynthia who was born and raised in Manhattan, New York City. She was already an actress when she was in college — in fact, she acted to pay her way through college. Eventually she received her Bachelor's degree in English Literature at Barnard College. She is also a theater actress who appeared on Broadway in 2017 for the revival of The Little Foxes. In 2019, Cynthia starred in one of the best Netflix drama series of all time, Ratched — she played the role of Gwendolyn Briggs.
Eva Longoria | Desperate Housewives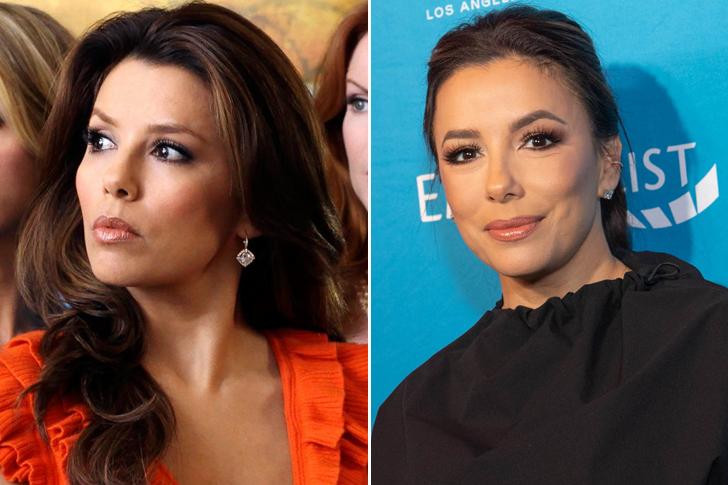 Eva Jacqueline Longoria is an actress and a producer. She gained wide recognition for starring in the renowned television series that aired from 2004 to 2012. She played the character of Gabrielle Solis. However, she first got recognized on the daytime soap opera, The Young And The Restless, where she starred as Isabella Braña from 2001 to 2003.
Not only is Eva successful in the entertainment industry, she was also successful in school. In fact, she earned her Bachelor of Science degree in kinesiology from Texas A&M University-Kingsville. In addition to that, she acquired her master's degree in Chicano studies in May 2013 from California State University, Northridge. In March 2017, she launched her very own clothing line. Moreover, In September 2020, her production company called UnbeliEVAble Entertainment signed a two-year deal with Universal Pictures. She is truly an inspiration to a lot of women who aspire to have awesome careers.
Teri Hatcher | Desperate Housewives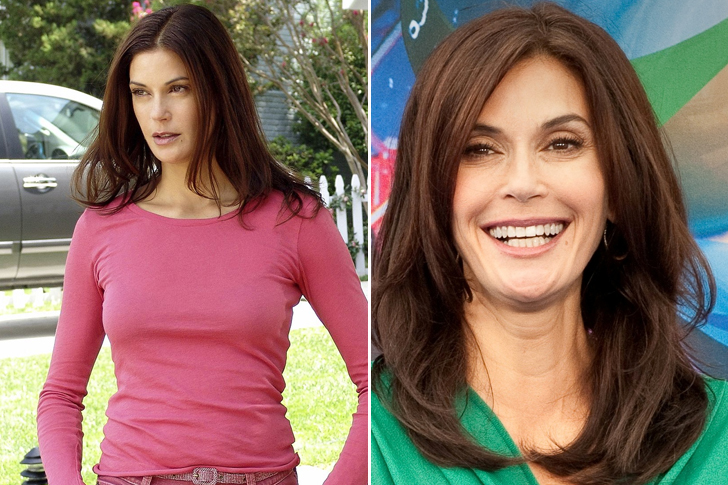 American actress, singer, and writer, Teri Lynn Hatcher, is famously known for her role as Louis Lane on the renowned television series, Lois & Clark: The New Adventures Of Superman. This show went on to air from 1993 to 1997. However, her most beloved role will have to be the one she had in the comedy-drama series, Desperate Housewives, which aired from 2004 to 2012. She portrayed the role of Susan Mayer. Teri received several accolades, including a Golden Globe Award for Best Actress in Musical or Comedy. In addition to that, she also received three Screen Actors Guild Awards.
Teri grew up in Sunnyvale, California. Apart from being an amazing actress, she also went to college and finished a degree in mathematics and engineering at De Anza. One of her recent projects is her YouTube channel, Hatching Change, which she started in 2018. Since Teri always had a knack for baking, she joined season 17 of Food Network's Chopped and became the champion.
Felicity Huffman | Desperate Housewives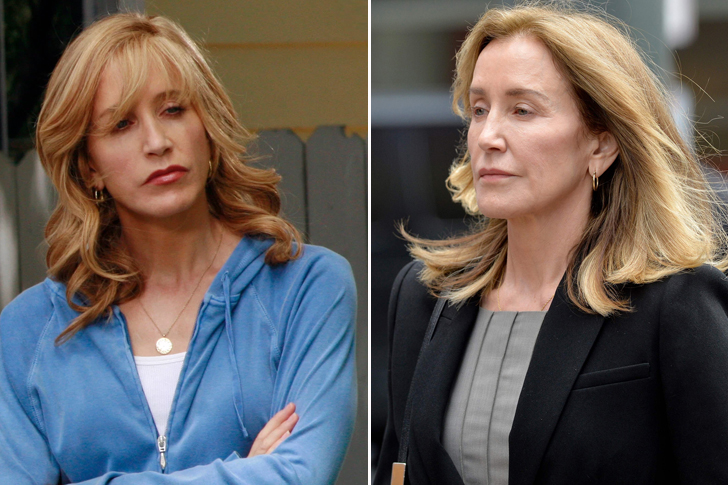 One of Hollywood's greatest assets will have to be the American actress Felicity Kendall Huffman. She has been in the entertainment industry since 1978 and she has already received several accolades, including three Screen Actors Guild Awards, a Primetime Emmy Award, and of course, a Golden Globe Award. Once, Felicity even got nominated for an Oscar — that is how good of an actress she is. She was destined to be on-screen. After all, she finished a degree in New York University's The Square Theatre School and in the Royal Academy of Dramatic Art in London.
Felicity gained wide recognition after starring in the ABC comedy-mystery series we all loved, Desperate Housewives. She co-starred alongside Teri Hatcher, Eva Longoria, and Marcia Cross. Moreover, she won an Emmy Award for her performance on the show in 2005. She also received two Screen Actors Guild Awards in 2006 for her role. Her recent works include two Netflix projects in 2019, When They See Us and Otherhood.
Marcia Cross | Desperate Housewives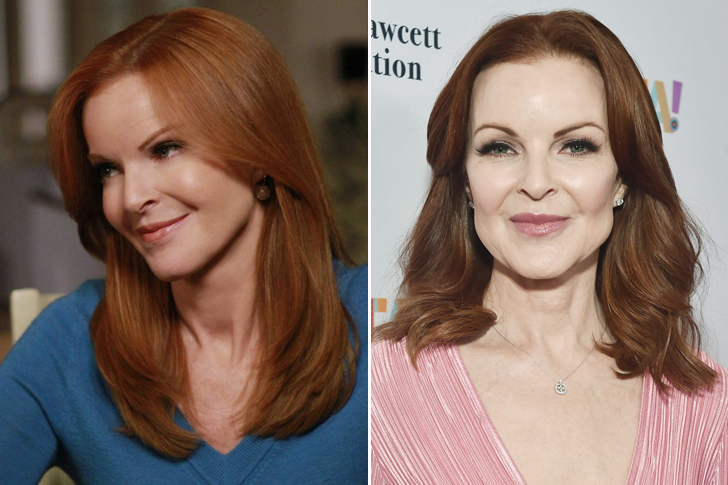 Marcia Anne Cross is a beloved American actress popularly known for acting in numerous daytime soap operas, including The Edge Of Night and One Life To Live. In addition to that, she also played Kimberly Shaw in the classic television drama series Melrose Place, which aired from 1992 to 1997. However, no role has brought her more fame than the ABC television series Desperate Housewives. She played the role of Bree Van de Kamp from 2004 to 2012. She received several nominations for incredible performance, including three Golden Globe Awards for Best Actress in Musical or Comedy.
Marcia was destined to be an actress. After all she earned a Bachelor of Fine Arts in Acting from Juilliard in 1984. Moreover, she also got her Master's degree in psychology in 2003 from the Antioch University in Los Angeles. One of her recent works in the entertainment industry was an episode of Law & Order: Special Victims Unit. She even joined the cast of the thriller series, Quantico, and played President Claire Haas.
Ashton Kutcher | That '70s Show
The ever-so-handsome Christopher Ashton Kutcher is one of the most sought-after actors in the entertainment industry. If his chiseled jawline and smoldering brown eyes are not enough to make a girl say, "wow," then we don't know what will be. He gained wide recognition for playing Michael Kelso in the television sitcom, That '70s Show, which aired from 1998 to 2006. He was only 19 years old when he started acting, and this series was the beginning of a long career in Hollywood. Since then, he appeared in several box office hit films, including Dude, Where's My Car?, What Happened In Vegas, and No Strings Attached.
Ashton was set to get a degree in biochemical engineering — in fact, he was already enrolled at the University of Iowa in August 1996. However, as life would have it, he was approached by a model scout at school, which was the stepping stone towards his acting career. He recently starred as Colt Bennet in the Netflix seriesThe Ranch from 2016 to 2020
Mila Kunis | That '70s Show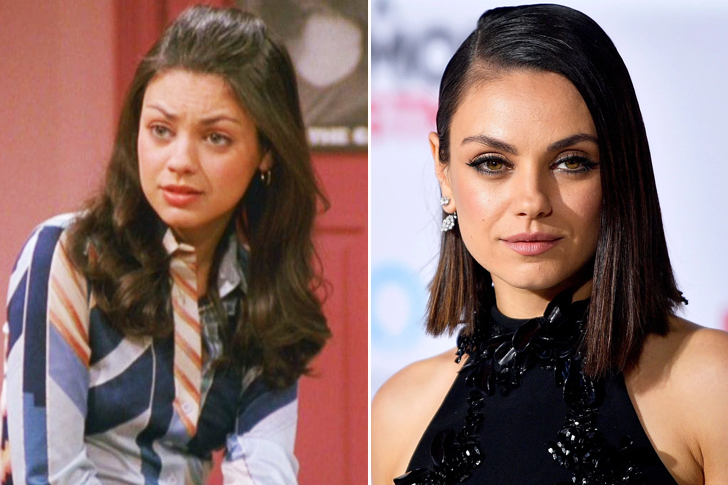 Melina Markovna Kunis is one of the most beautiful actresses in the entertainment industry. She was only 14 years old when she became a big hit in her debut role as Jackie Burkhart on the renowned sitcom,That '70s Show. This sitcom was on air for eight whole seasons. She played the love interest of her now-husband, Ashton Kutcher, who played the role of Michael Kelso. Ironically, they were each other's love interest on the show, and look how well that turned out for them. They have been married for seven years now and share two amazing kids, Wyatt and Dimitri.
To this day, Mila is still in high demand when it comes to big movie roles. In 2016, she co-starred with Christina Applegate and Kristen Wiig in the comedy film Bad Moms, which was a huge success. It earned a jaw-dropping $184 million with only a $20 million budget. It was then followed by a sequel in 2017, A Bad Moms Christmas. In 2021, she also starred in the film Mississippi. Now, Mila has a staggering net worth of $75 million with property investments everywhere.
Danny Masterson | That '70s Show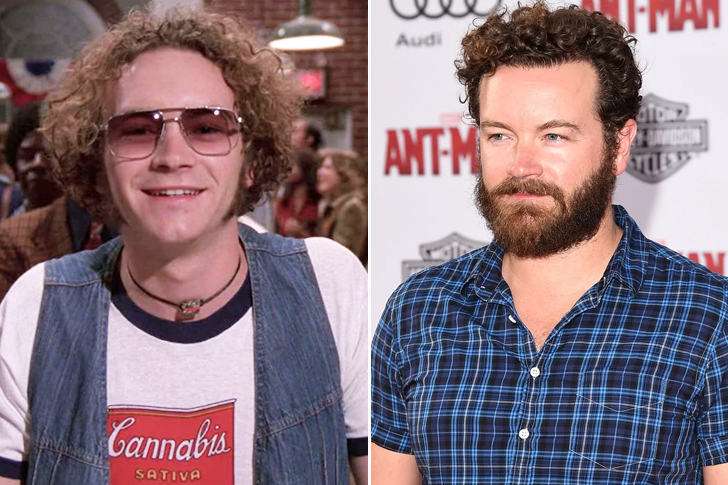 Daniel Peter Masterson, an American comedian and actor who is famously known for playing the role of Steven Hyde in the renowned television series, That '70s Show, from 1998 to 2006. The sitcom was one of the most beloved shows in the world. Danny's career in the entertainment industry started when he began appearing in commercials, including one for Kellogg's Frosted Flakes and Tang.
Danny starred as Jerry Rubin in the critically acclaimed film, The Chicago 8, back in 2010. In 2011, he portrayed the role of James Roland in the USA Network's White Collar — in the Where There's A Will episode, to be exact. He co-starred alongside Michael Cassidy and James Lesure on the comedy series Men At Work in 2012. His most recent work was in Netflix's The Ranch, which aired from 2016 to 2018. Danny's net worth is around $8 million — he must have a financial advisor helping him oversee his assets.
Laura Prepon | That '70s Show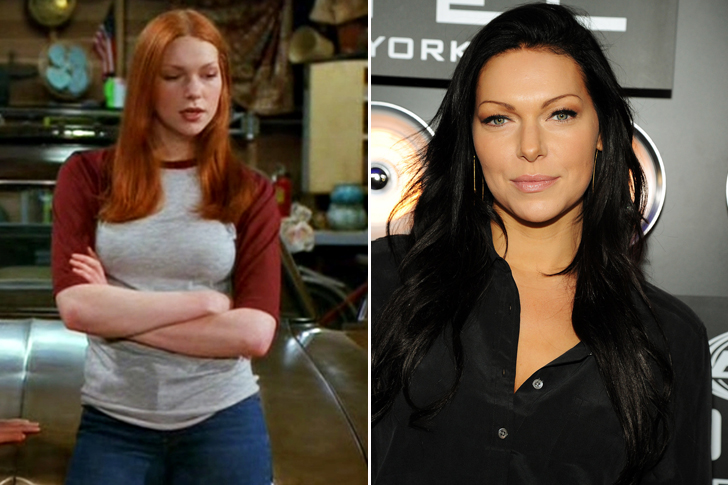 The ever-so-gorgeous Laura Prepon is a renowned American actress. She is famously known for playing Donna Pinciotti in That '70s Show, a Fox sitcom we all know and love. This television aired for eight whole seasons. Ever since her success on the show, Laura has been receiving projects left and right. In 2001 she made her film debut in the independent drama, Southlander. She was also in the 2006 romantic-drama movie, Come Early Home. In 2016, she was cast on the critically acclaimed movie The Girl On The Train.
One of Laura's recent successes will have to be the award-winning Netflix comedy-drama series, Orange Is The New Black. She portrayed the role of Alex Vause from the beginning of the show until the final season in 2019. To this day, it is still the most-watched and longest running original series on Netflix — way to go Laura for landing such an awesome project. As of 2021, her net worth is a staggering $12 million. She must have been doing a lot of financial planning to maintain her assets.
Topher Grace | That '70s Show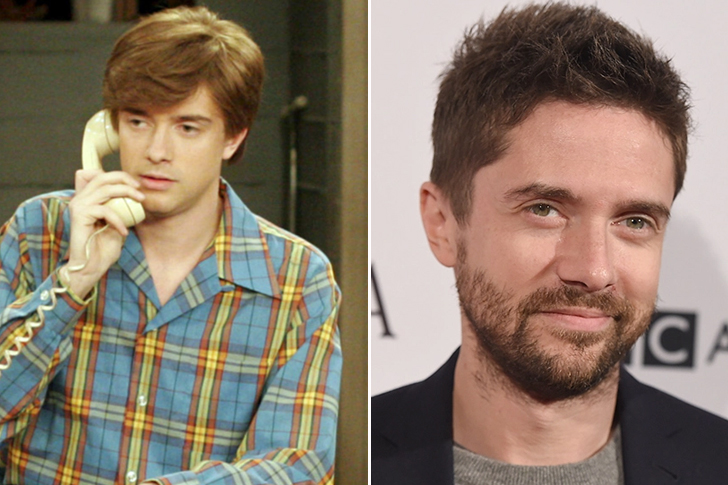 American actor, Christopher John Grace, gained wide public recognition for starring as the charming and scrawny nerd, Eric Forman, in the beloved Fox television series, That '70s Show. Topher's character, Eric, was the sitcom's main protagonist, but he left the show after season seven to pursue a career in the world of film. Fortunately, he landed the role of Eddie Brock, also known as Venom, in Sam Raimi's box office movie, Spider-Man 3. He also starred as a NASA medical doctor named Getty in the critically acclaimed 2014 film Interstellar, which was directed by Christopher Nolan In 2018. He portrayed the role of David Duke in the Academy Award winning film, BlacKkKlansman, which was directed by the iconic Spike Lee.
Among Topher's recent works is the comedy series Home Economics, which aired in 2021. His net worth is already a whopping $14 million, and he must have awesome property investments all over the United States.
Wilmer Valderrama | That '70s Show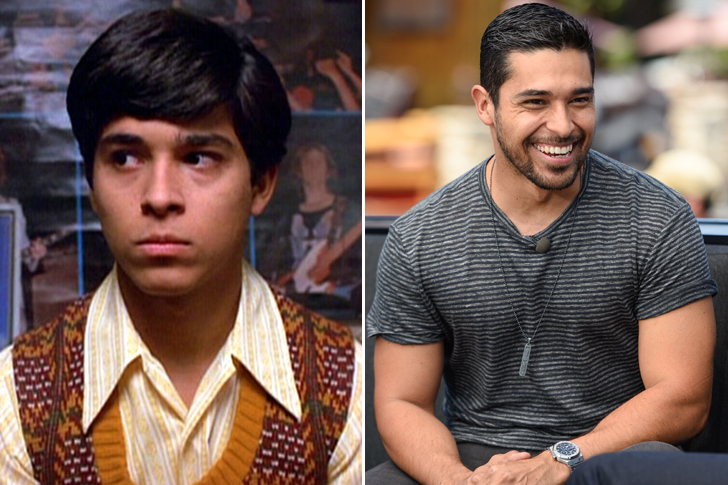 American actor Wilmer Valderrama played the foreign exchange student, Fez, in That '70s Show. Ultimately the character is amazed by American life – the culture and concept of school loans – and he felt that nothing can stop him from believing that the knowledge he gains from the country will make him far more superior to his friends back home. Basically, he was pretty weird, making him more memorable and adored.
After the show, Valderrama has tackled other projects, such as voicing and producing the animated movie Charming. He has also appeared in documentaries, with his ex-beau, Demi Lovato, in Simply Complicated. He then landed roles in quirkier films like Party Monster, From Prada To Nada, and Onward. He has even been cast in the Sundance Festival Entry, Blast Beat. He continues to be active in the industry, starring in NCIS as a series regular, where he has been awarded the Imagen Foundation Award for Best Supporting Actor in Television.
Robin Wright | Santa Barbara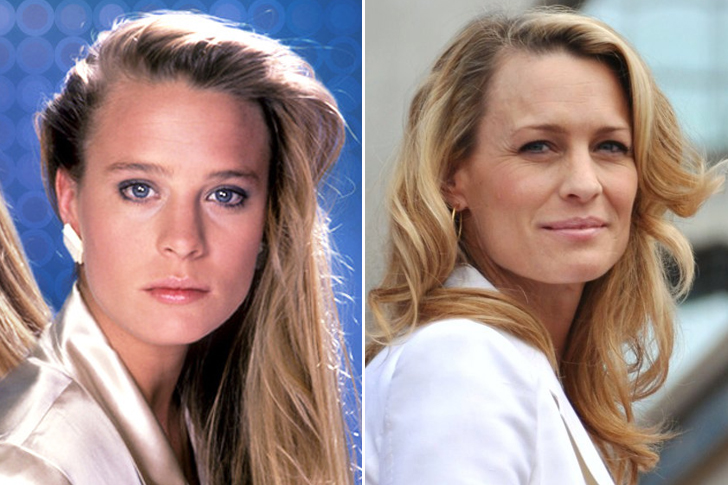 Starting her career in a soap opera called Santa Barbara, actress Robin Wright eventually won a Golden Globe for the role of Claire Underwood in the political drama, House of Cards, streaming on Netflix. She was also able to make it on the big screen, with box office hits like Forrest Gump, Unbreakable, Moneyball, Wonder Woman, and Blade Runner 2049. Pretty sure this acclaimed actress has a good credit score, being paid almost half a million dollars per episode for her role as Claire Underwood and after working on several blockbuster films.
Aside from dedicating her time to film, she is also a spokesperson for the non-profit organization, The Gordie Foundation. She is an entrepreneur and philanthropist, part-owning The SunnyLion and a retail business named Les Femmes. The SunnyLion donates a portion of its profits to the Raise Hope For Congo movement. The actress is also an activist for the human rights of the Republic of Congo.
Pauley Perrette | NCIS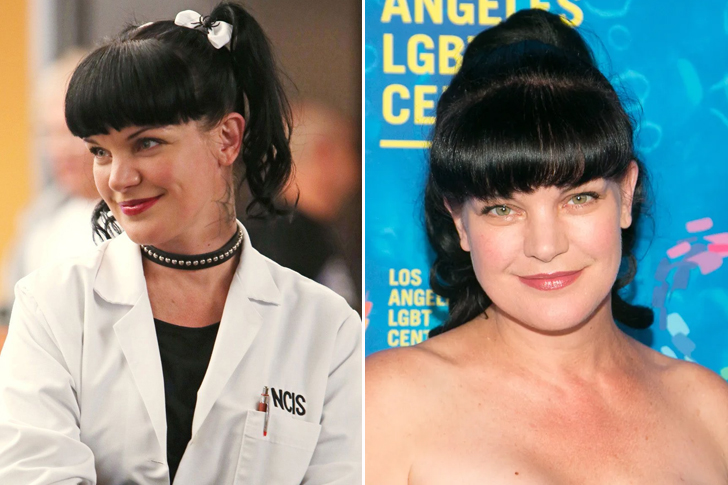 Actress Pauley Perrette has worked mostly in television for most of her years in the limelight. She has made appearances in The Ring and Almost Famous, but she predominantly made it big on the small screens, especially after her role as Abby Sciuto, a one-of-a-kind forensic scientist in the crime series NCIS. She appeared for almost 15 seasons, which proves her acting chops. After her long run in the show, it was finally time to test other waters.
She continued to shine on television after landing the main role in the sitcom, Broke, where she plays Jackie. Aside from her small-screen success, she is also a businesswoman at the side, co-owning Donna Bell's Bake Shop in New York City. Currently, she has happily retired from acting, free from busy schedules, and probably won't need to worry about loans or bankruptcy.
Josh Radnor | How I Met Your Mother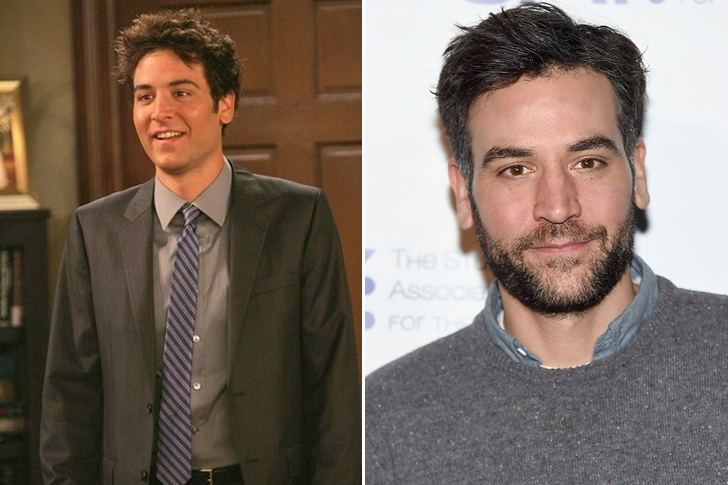 "And that, kids, is how I met your mother" – this unforgettable statement has been in the mind of every person who followed the Emmy award-winning show, How I Met Your Mother. This amazing show lasted for 9 seasons and had a total of 208 episodes. Special thanks to Josh Radnor's credit role as Ted Mosby, who is the narrator and star of the high-rating television series.
In the middle of the production of said series, he was also able to experience a directorial role with the comedy-drama Happythankyoumoreplease, which won a Sundance Film Festival Audience Award. He has also portrayed other small-screen roles in television dramas like Grey's Anatomy, Mercy Street, and Rise. Now, he has a recurring role as Lonny Flash, the master of disguises, in the Amazon original drama series, Hunters, which was recently renewed for a second season. Go watch the show if you missed Ted Mosby!
Jason Segel | How I Met Your Mother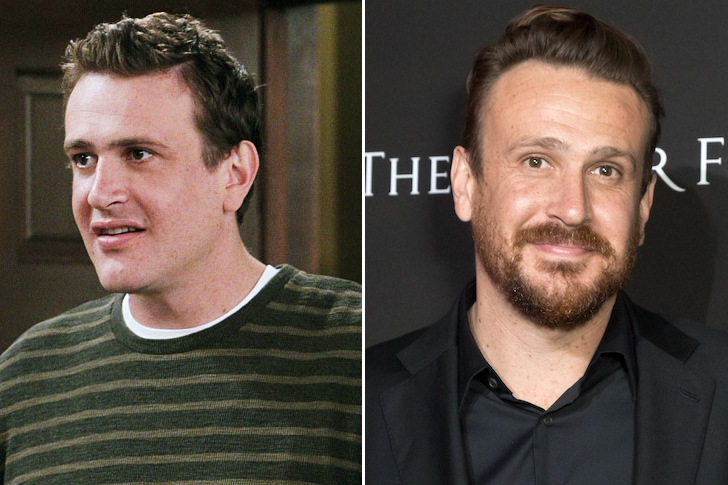 Another How I Met Your Mother alum, the funny and loyal corporate lawyer, Marshall Eriksen, was played by the actor Jason Segel. He was constantly making our hearts flutter during his time as Lily's husband and Ted's best friend. MacLaren's Pub was so lucky to have him and his group of friends as a regular. Segel is also known for his funny roles in Knocked Up, Forgetting Sarah Marshall, and Bad Teacher, which should definitely be on everyone's must-watch lists.
He has numerous award nominations and is obviously a critic-darling. He continues to be very active and versatile in the industry with acclaimed roles like David Foster Wallace in the film The End Of The Tour, which garnered massive praise. He also appeared in The Discovery, Come Sunday, and Our Friend. Now, his latest film, The Sky Is Everywhere, is currently in post-production.
Cobie Smulders | How I Met Your Mother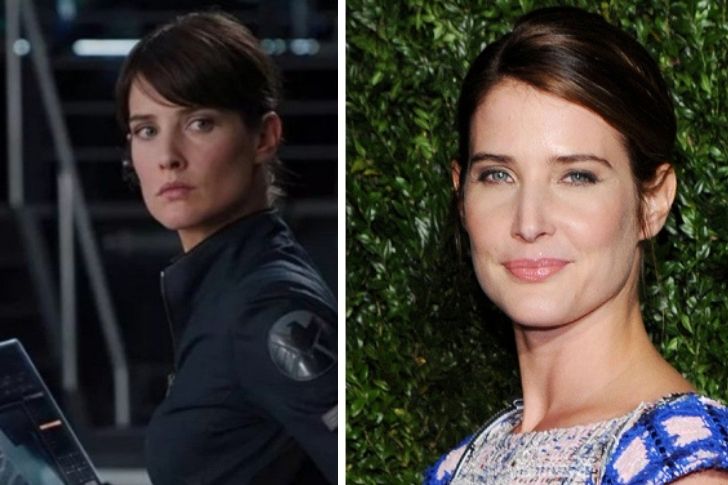 If it isn't Robin Sparkles, the famous Canadian pop star! Another HIMYM alum, Colbie Smulders was a constant favorite in the show. With her "but um's" and strong quirky personality, her portrayal of Robin Scherbatsky was so natural, it was such a treat watching her bring the character to life.
After her time on HIMYM, she had an even bigger break by accepting the role of Agent Maria Hill of S.H.I.E.L.D in the box-office monster, the Avengers franchise. She also starred opposite Tom Cruise in the action film, Jack Reacher: Never Go Back. She even took roles closer to her character Robin, in movies like the comedy-drama Delivery Man. She eventually found comfort in small screens again, landing the credit role, Dex Parios, in ABC's Stumptown, a crime drama series with a total of 18 episodes.
Neil Patrick Harris | How I Met Your Mother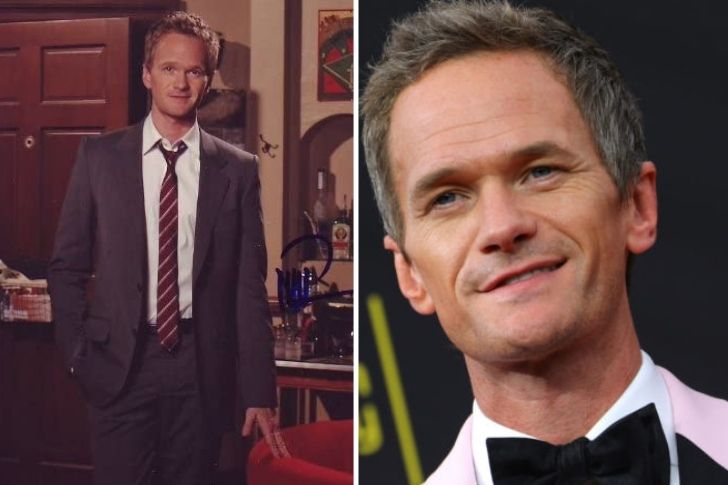 Legendary! Yes, he was. The role of Neil Patrick Harris as Barney Stinson will forever be memorable and be one of the most quotable characters in television history. One of the series' running gags was the mystery behind Barney's job. Was he a financial advisor? All we knew was that he has his love for suits, which was emphasized for most of the seasons. Do you want to know what he does for a living? Go watch the iconic show and find out. HIMYM is definitely binge-worthy.
Apart from the show, he has also dedicated his time to bigger projects like the movies Gone Girl, Downsizing, and The Smurfs. Now, Harris is working on movies such as the fourth Matrix film and The Unbearable Weight of Massive Talent, currently in post-production. Aside from his career, he also supports various philanthropic ventures like the AIDS Healthcare Foundation and Global Green Organization, to name a few.
Alyson Hannigan | How I Met Your Mother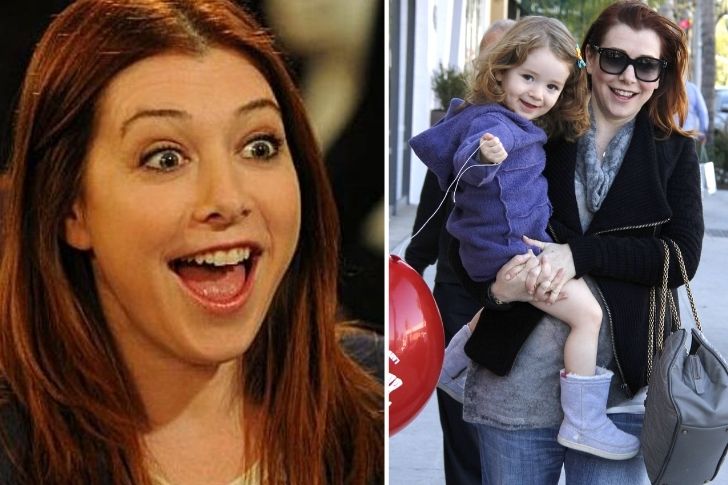 Sort of like the "shoulder to cry on" of the group, Lily was a character that grounded the five friends in How I Met Your Mother. HIMYM star Alyson Hannigan portrayed the friendly and smart Lily Aldrin, Ted's best friend and Marshall's wife. and her performance earned her a People's Choice award. Prior to HIMYM, she also played another beloved character, Willow Rosenberg, Buffy Summers' best gal pal, in the teen sitcom Buffy the Vampire Slayer. Hannigan bagged a Saturn Award for Best Supporting Actress for this role.
She also starred and won a Teen's Choice Award for her performance in American Pie. Now, she continues to host Penn & Teller: Fool Us and also lends her voice acting skills in the Disney animation Fancy Nancy. Other than that, she has a credit role in the Disney Original superhero comedy Flora Ulysses.
Zach Braff | Scrubs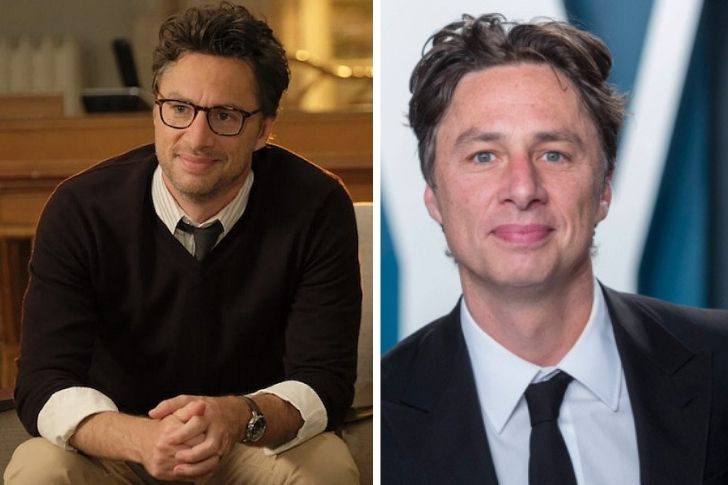 American actor Zachary Israel Braff is best known for his role as Dr. John Michael "J.D." Dorian in the high rating medical drama Scrubs which aired for over eight amazing seasons. He also takes credit for his very good voice work in animations like DreamWorks Chicken Little and Netflix's Bojack Horseman. He was nominated for an Emmy for Outstanding Lead Actor in a Comedy Series and earned nominations for a number of Golden Globes.
Now, he directs and does other production work, for notable films and shorts like In The Time It Takes to Get There. There he met his present-girlfriend Midsommar and Little Women actress, Lawrence Pugh. He also started a podcast entitled Fake Doctors, Real Friends with Scrubs alum Donald Faison, which airs every week. During his off-time, he also supports charities and foundations like the Motion Picture and Television Fund and the Earth Day Network.
Sarah Chalke | Scrubs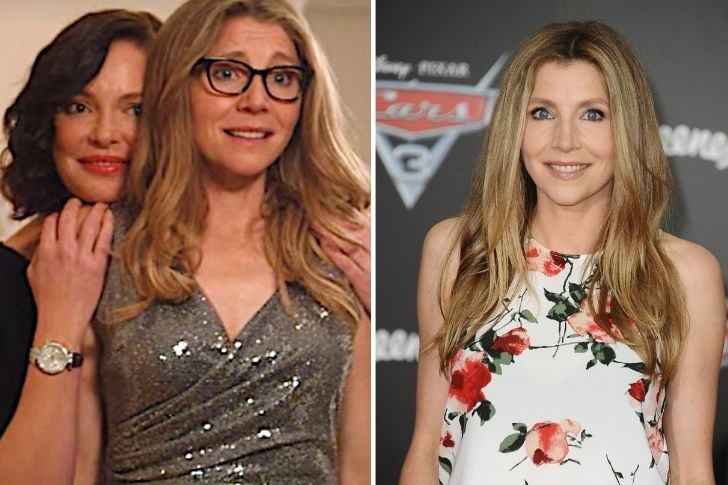 This Canadian beauty is also a Scrubs veteran, portraying the role of Dr. Elliot Reid. Sarah Chalke has also appeared for ten episodes in the CBS sitcom How I Met Your Mother, playing yet another doctor, Ted's Dermatologist, Dr. Stella Zinman. Remember the infamous "two-minute date" from HIMYM? Yep, that was her. She also starred opposite Friends alum, Courtney Cox, in the third season of Cougar Town.
Now, she continues to lend her voice in the animated Adult Swim series, Rick and Morty, as Beth Smith and Netflix series Paradise PD. She also stars as Kate Mularkey, a housewife trying to get back on her feet after hiring a lawyer and separating from her husband, in the Netflix drama, Firefly Lane, opposite Katherine Heigl. This show focuses on the adventures of two female friends from their teenage years to adulthood, tackling real-life problems.
Donald Faison | Scrubs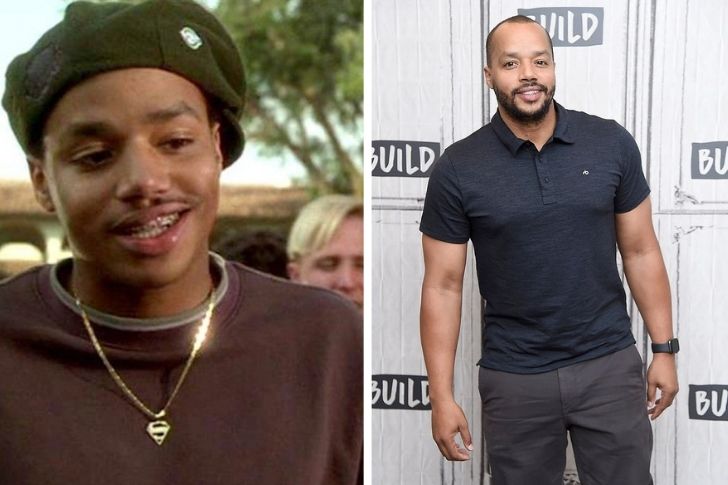 Yep, it's Dr. Chris Turk from the sitcom Scrubs. Donald Faison won two awards for his portrayal of Dr. Turk in the series, namely Outstanding Supporting Actor from the BET Comedy awards for two consistent years and twelve other nominations for the same character. Before he was a doctor in Sacred Heart Hospital, he was most definitely clueless. If you guys remembered, Faison appeared in the mid-'90s classic Clueless opposite Alicia Silverstone.
He also earned credits in other films like Uptown Girl, Next Day Air, and Kick-Ass 2. You might have also seen his cameo in the film Pitch Perfect. For his most recent work on the big screen, he appeared in The Perfect Match, Little Evil, and The Wave. He has also gone back to the small screen for bigger and recurring roles, in shows like Emergence, Star Wars: The Clone Wars, and Powerpuff.
Ken Jenkins | Scrubs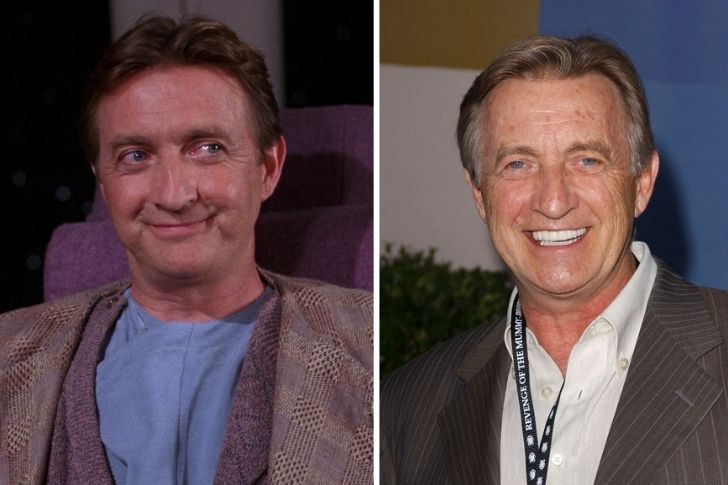 The Big Boss of Scrubs Dr. Bob Kelso was a very prominent role in the series. Ken Jenkins portrayed the Chief of Medicine's character so well, from handling patients to insurance agencies. He had the most character growth in the entire show, gradually becoming a better person and a more compassionate doctor.
Aside from his part on the hit show, he also appeared in The X-Files and A Series of Unfortunate Events. Jenkins also had a recurring role in Cougar Town as the father of Jules. He has also appeared in big films like I Am Sam, The Sum of All Fears, and The Tailor of Panama. At present, the actor has been more lowkey, but he had a mini-reunion with his co-star Zach Braff, after having been invited to his podcast, with the session entitled My Case Study With Ken Jenkins. The actor is still pretty close with the cast.
John C. McGinley | Scrubs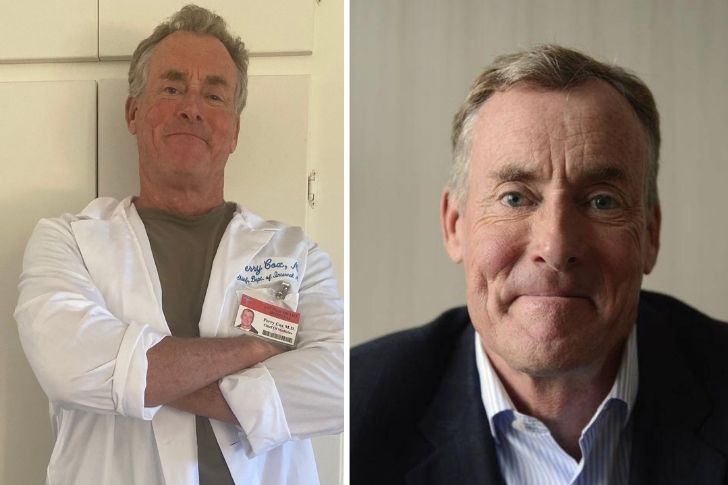 It's Dr. Perry Cox! The Scrubs casting director should really be given credit for his casting skills. John C. McGinley is another star of the famous sitcom and was a known force during the '90s and early 2000s. He was even nominated for a TCA Award for Individual Achievement in Comedy and a Satellite Award for Best Actor in a Television Series in the same year. He was able to appear on the big screen almost every year, starring in movies like The Belko Experiment, The Animal, and Are We Done Yet?
One of his recent works can be seen in Netflix and DreamWorks's animated television series Dragons: Rescue Riders, voicing Grumblegard. Aside from acting, he also wrote a book called Untalkative Bunny: How To Be Heard Without Saying A Word, which emphasizes the importance of significantly improving your listening skills. He is also an international spokesperson and board member of the Global Down Syndrome Foundation.
Judy Reyes | Scrubs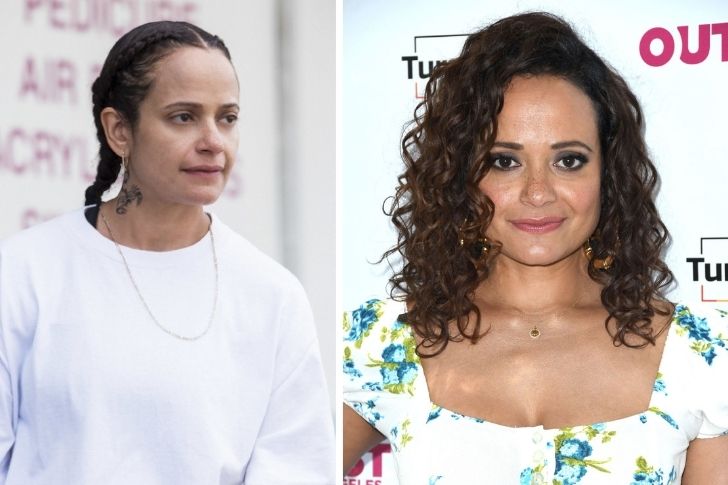 Another Scrubs alum Judy Reyes, who played Nurse Carla Espinosa, is also known for her portrayal of Zoila Diaz in the binge-worthy mystery series, Devious Maids, which ran for four seasons. She also stars in crime dramas like NYPD Blue, Law & Order, and HBO's Claws. She then appeared for a total of eleven episodes as Dina Milagro in the critically acclaimed telenovela Jane the Virgin, which has a perfect review in Rotten Tomatoes, earning a high degree of praise.
Recently, Reyes made a 3-episode appearance in the American comedy-drama, Better Things, and she was cast for one episode in ABC's Black-ish, paying homage to her medical role as a health professional. The award-winning actress is also known for supporting philanthropic ventures like the Sound of Gol Foundation, promoting the accessibility of community gardens. She is an amazing actress with a generous heart, right?
Neil Flynn | Scrubs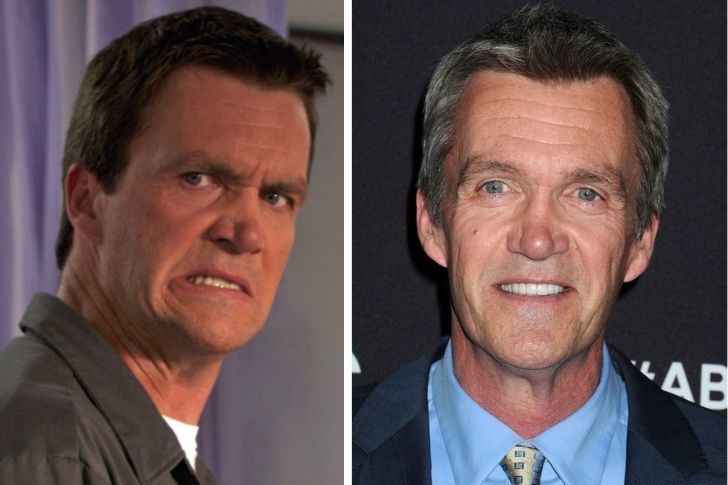 Neil Flynn is known to play a janitor in a show called Janitor. He was initially offered only a few episodes as a recurring character, but thanks to his performance, he stayed for a total of 8 seasons. He co-starred in the show as the janitor who liked to plot devious pranks on J.D., which was the gas to his fumes. He probably even did more pranks than actually clean.
Like his co-star Donald Faison, Flynn has also co-starred in chick flicks that influenced pop culture. He portrayed the role of Chip Heron, Cady's dad, in the famous movie Mean Girls. He has also appeared in other films like Indiana Jones and the Kingdom of the Crystal Skull. He even lent his voice to animated pictures like Superman: Man of Tomorrow and Cloudy with a Chance of Meatballs. On the small screen, he has continued to covet prominent roles shortly after Scrubs, portraying Mike Heck in the comedy The Middle and Fred in the sitcom Abby's.
Zooey Deschanel | New Girl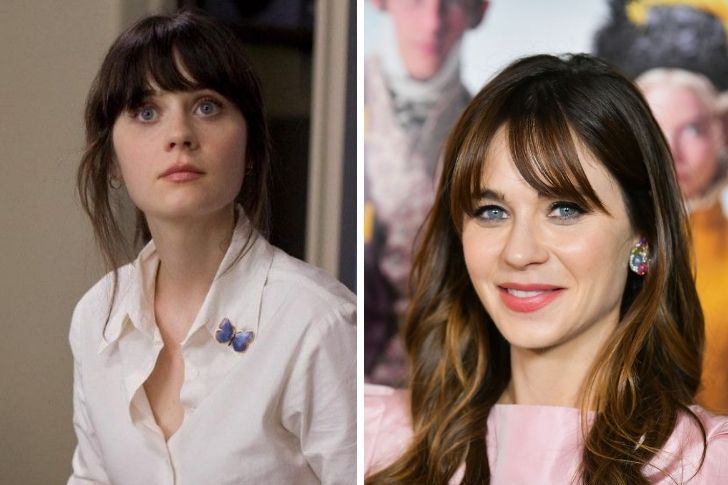 Zooey Claire Deschanel is an actress, model, guitarist, and singer-songwriter who was born on January 17, 1980, in Los Angeles, California. She is the daughter of cinematographer and producer, Caleb Deschanel, and Mary Jo Deschanel, who is also an actress. Deschanel went to Crossroads, a prestigious Santa Monica preparatory academy, where she met future co-stars Jake Gyllenhaal and Kate Hudson. She planned to seek a career in musical theatre and attended the French Woods Festival of the Performing Arts during high school. She was enrolled at Northwestern University to complete her degree, but she dropped out after nine months to pursue acting.
In 1998, Deschanel made her TV debut in the sitcom Veronica's Closet. Later, she played DG in the science fiction reimagining of The Wonderful Wizard of Oz, Tin Man. The miniseries had a first-night audience of more than 6.3 million viewers, making it the highest-rated cable miniseries of 2007. She then got a major role in the Fox comedy New Girl in 2011. She was nominated for three Golden Globe Awards and a Primetime Emmy Award for her role as goofy schoolteacher Jessica Day, and she won the Critics' Choice Television Award for Best Actress in a Comedy Series.
Jake Johnson | New Girl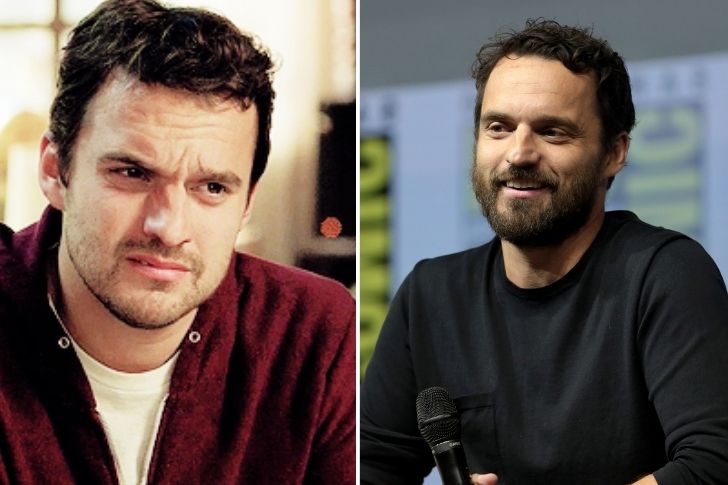 Mark Jake Johnson Weinberger was born on May 28, 1978, in Evanston, Illinois, a northern suburb of Chicago. His mother is Eve Johnson, a stained-glass designer, and his father is Ken Weinberger, a car dealership owner. Johnson went to New Trier High School in Winnetka before enrolling at the University of Iowa to get his degree for his post-secondary studies. He wrote a play while in Iowa City, which led to his acceptance into NYU's Tisch School of the Arts Dramatic Writing Department. Johnson founded the Midwesterners sketch comedy troupe in New York, basing their material and style on HBO's Mr. Show with Bob and David.
Johnson is best known for his appearance as Nick Miller on the Fox sitcom New Girl, for which he received a Critics' Choice Television Award nomination in 2018 for Best Actor in a Comedy Series. He also appeared in the ABC drama series Stumptown, where he played Greyson "Grey" McConnell.
Max Greenfield | New Girl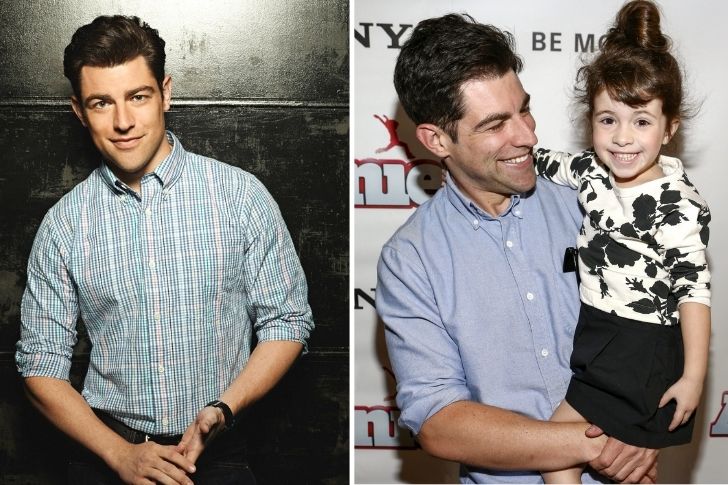 Max Greenfield is Jewish who was born on September 4, 1979, in Dobbs Ferry, New York and was raised there. He has been married to his wife, Tess Sanchez, a casting agent, since 2008. They have two children, Lilly and Ozzie. Greenfield attended the University of Wisconsin for his bachelor's degree and had a brief period as an art student after graduating from Dobbs Ferry High School in New York in 1998. He eventually dropped out after failing to fulfill some academic standards during his freshman year.
Greenfield then made his acting debut in the MTV anthology Undressed in 2000. In three episodes of the show, he played Victor. He also appeared in the sitcom Boston Public and the Gilmore Girls "dramedy" The WB. In 2011, he made his debut as Schmidt in the Fox sitcom New Girl, and he played the role until 2018 – for seven seasons.
Lamorne Morris | New Girl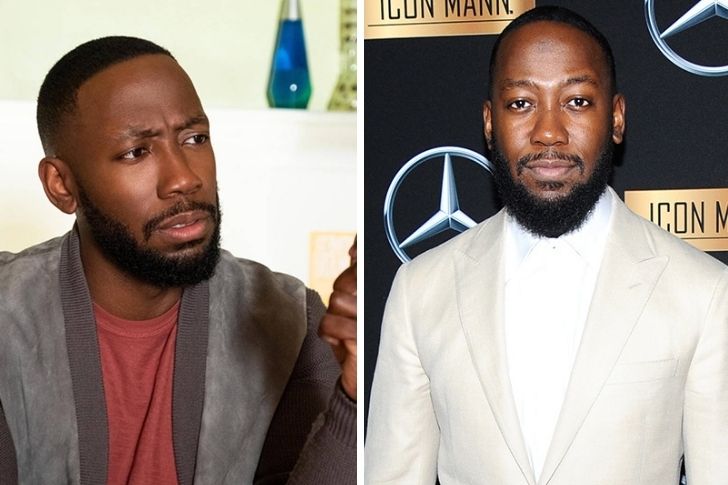 On the 14th of August, 1983, Lamorne Morris was born. He was born and raised on Chicago's South Side. Morris attended Glenbard South High School in Glen Ellyn as a child. He then earned his bachelor's degree in theatre from the College of DuPage in 2003, and he was awarded the Chris Farley Memorial Acting Scholarship.
Morris was a voiceover artist for the comedy film Urban Ground Squirrels" in 2002. He was then discovered by BET and was chosen as one of their New Faces contest winners. On July 10, 2006, he made his BET hosting debut, co-hosting his own program, HotWyred, with Alesha Renee, the co-winner of New Faces. The show lasted until May 2007 and was a huge hit. Morris eventually got his first break when he was cast as Winston Bishop in the Fox sitcom series New Girl. Morris did not debut until the second episode. Did you know that Damon Wayans Jr. was initially cast as Morris? That would be weird now since we can't imagine Winston played by someone other than Morris.
Hannah Simone | New Girl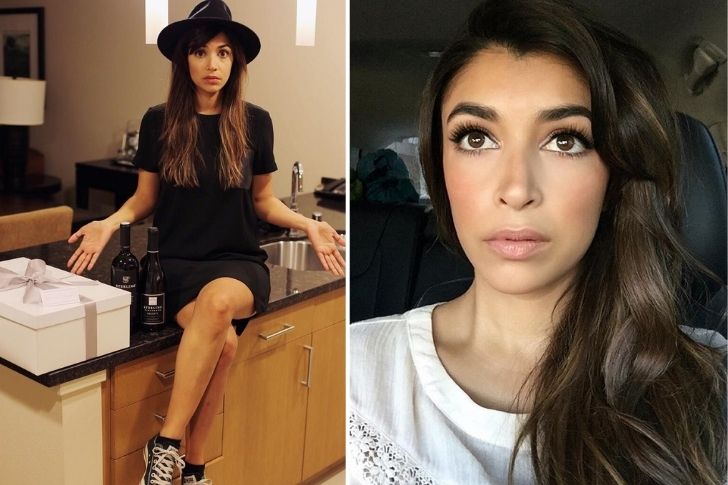 Hannah Simone was born on August 3, 1980, in London, to an Indian father and a German, Italian, and Greek Cypriot mother. She has one brother named Zack. She moved to Vancouver when she studied at the University of British Columbia. She returned to Hounslow, United Kingdom, for a year after finishing her first degree, where she served as a human rights and refugees officer.
For her career, Simone became the first season host of HGTV Canada's television program Space for Living after graduating from Ryerson University in 2005.
She then worked at MuchMusic Headquarters as a VJ, as a television presenter for Much News Weekly, and as the host of the program The NewMusic. Simone got her big break when she played Cece, the best friend of the lead character Jess, who was played by Zooey Deschanel, on Fox's comedy New Girl from 2011 to 2018. She was also cast as the leading lady in ABC's revival of The Greatest American Hero on February 12, 2018, but unfortunately, the show was not picked up.
Rhea Perlman | Hot Dogs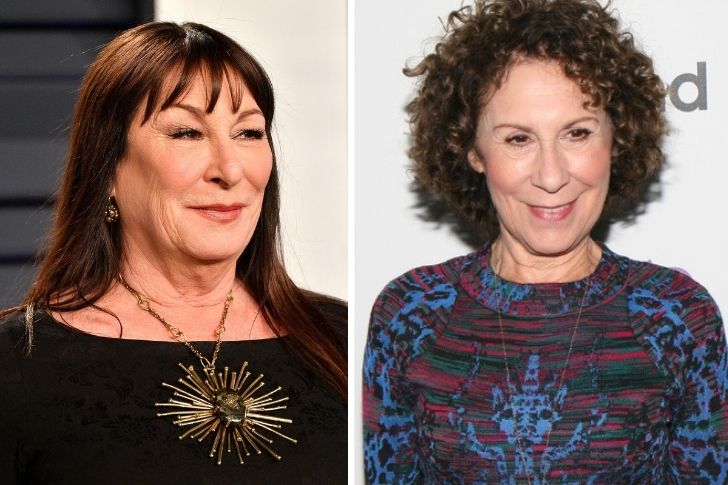 Philip Perlman, a Polish immigrant who worked as a clerk at a doll parts factory, and Adele, a bookkeeper, gave birth to Rhea Jo Perlman on March 31, 1948, in Coney Island, Brooklyn. She was raised in Bensonhurst by a Jewish family with Russian links. She earned a Bachelor of Arts degree in drama from Hunter College in New York in 1968.
Perlman began her acting career in the on-off-Broadway play Dracula Sabbat, which ran from September 1970 to June 1971, with a minor part as an attendant. She then had a small part in Gauguin's film Hot Dogs in 1972. In the same year, she and her husband, Danny DeVito, co-starred in Westbeth Playwrights Feminist Collective's production of Up – An Uppity Revue. Perlman and her daughter, Lucy DeVito, appeared in Nora and Delia Ephron's off-Broadway play Love, Loss, and What I Wore at the Westside Theatre in 2009. She also played Danny Castellano's grandma, Annette Castellano, on The Mindy Project from 2014 to 2017.
John Ratzenberger | Cheers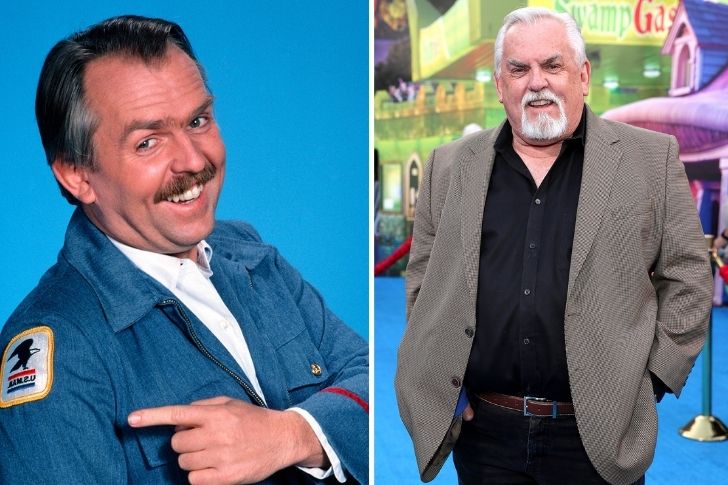 John Dezso Ratzenberger was born in Bridgeport, Connecticut, on April 6, 1947, to Bertha Veronica Ratzenberger, a Remington Arms employee, and Dezso Alexander Ratzenberger, a Texaco truck driver. He went to St. Ann's School in Bridgeport and went on to Sacred Heart University in Fairfield, Connecticut, to earn his degree. In the 1970s, he toured the UK as part of the satirical theater duo Sal's Meat Market, which he co-founded with Ray Hassett. However, he rose to fame after portraying Cliff Clavin in Cheers.
Ratzenberger's time at Pixar was mocked in the Cars end credits, where his character, Mack, watches Pixar films such as Toy Car Story, Monster Trucks, Inc., and A Bug's Life, the latter of which features the Volkswagen Beetle. In April 2020, he revealed that he and American Made Ads, a corporation he co-founded, would provide free advertising and marketing assistance to chosen businesses that have been harmed by the economic decline caused by this current global situation.
George Wendt | Saturday Night Live (SNL)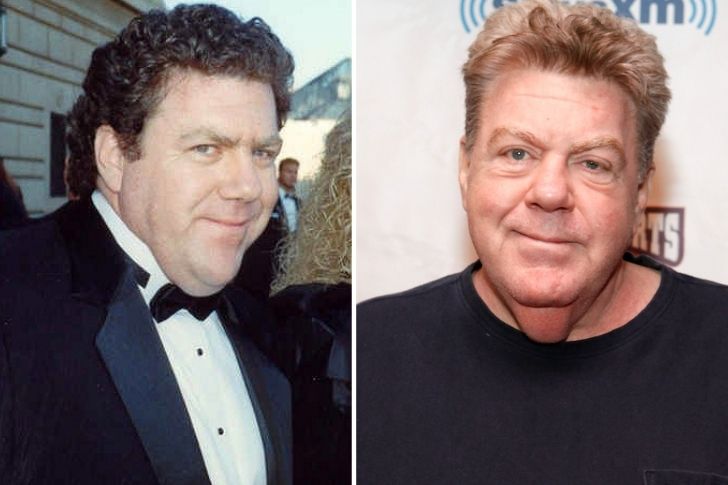 On October 17, 1948, George Robert Wendt Jr. was born in the Beverly area on Chicago's south side. His parents are Loretta Mary and George Robert Wendt, who was a Navy officer and real estate broker. Currently, Wendt Jr. is married to Bernadette Birkett, and they have been together since 1978. They have three children named Hilary, Daniel, and Joe.
He went to Campion High School in Prairie du Chien, Wisconsin. Since receiving a 0.00 GPA in the first semester of his junior year, he was expelled from Notre Dame. He went on to Jesuit Rockhurst College in Kansas City, Missouri, where he earned a bachelor's degree in economics. Wendt Jr. first appeared on Saturday Night Live in an episode from season 11, in which he co-hosted with producer Francis Ford Coppola. He then played Willy Loman in Death of a Salesman at St. Jacobs Country Playhouse in Waterloo, Ontario, Canada.
Kelsey Grammer | Cheers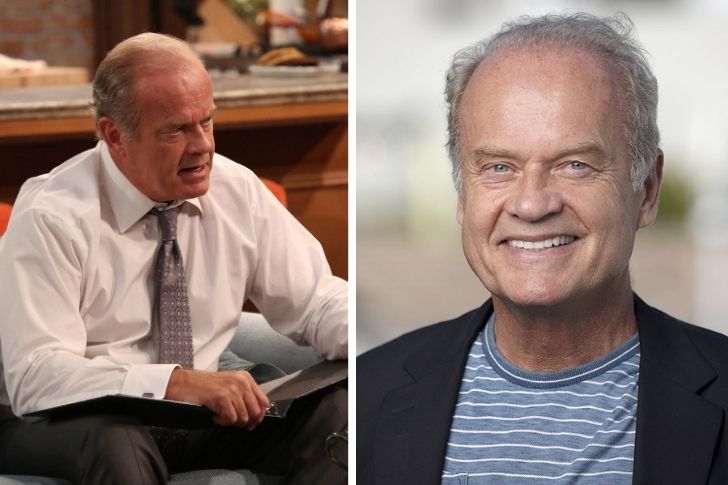 Allen Kelsey Grammer was born in Saint Thomas, United States Virgin Islands, on February 21, 1955, to Sally Cranmer and Frank Allen Grammer Jr., who was a guitarist and owner of Greer's Place, a coffee shop and bar and grill. He has one younger sibling named Karen. Grammer went to Pine Crest School in Fort Lauderdale, Florida, which is a private preparatory school. Unfortunately, when his sister passed away, Grammer missed school and was subsequently dismissed.
He was awarded a scholarship to the Juilliard School to further his degree. Grammer did a three-year internship at the Old Globe Theatre in San Diego after graduating from Juilliard in the late 1970s, followed by a run at the Guthrie Theater in Minneapolis, Minnesota, in 1980. One year later, he made his Broadway debut as Lennox in Macbeth, replacing Philip Anglim, who had withdrawn due to poor reviews. He rose to fame, however, after playing Dr. Frasier Crane on the NBC sitcom Cheers.For his recent roles, he played Harry Hamilton in the Netflix film Like Father, which he co-wrote with Kristen Bell, and as a detective in Grand Isle, which he co-wrote with Nicolas Cage. He is also rumored to play Kang the Conqueror in Loki.
Woody Harrelson | Cheers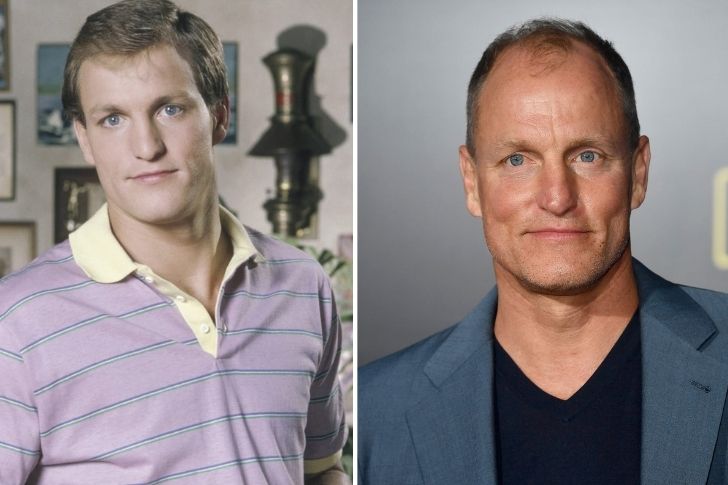 Woodrow Tracy Harrelson, the son of Diane and Charles Voyde Harrelson, was born on July 23, 1961, in Midland, Texas. He grew up in a Presbyterian family with his two siblings, Jordan and Brett, who went on to be an actress. In 1973, Harrelson moved to Lebanon, Ohio, the hometown of his mother, where he graduated from Lebanon High School in 1979. Summer of the same year, he was employed at Kings Island amusement park. Harrelson then earned his degree in Theatre and English from Hanover College in Hanover, Indiana, where he joined the Sigma Chi fraternity.
He became well known for his role on the NBC sitcom Cheers. He replaced Coach, played by Nicholas Colasanto, and became bartender Woody Boyd in the series. For his recent works, he played Felix Kersten in The Man with the Miraculous Hands, a feature film adaptation of Joseph Kessel's 1960 novel of the same name, which was released in March 2021.
Kristie Alley | Cheers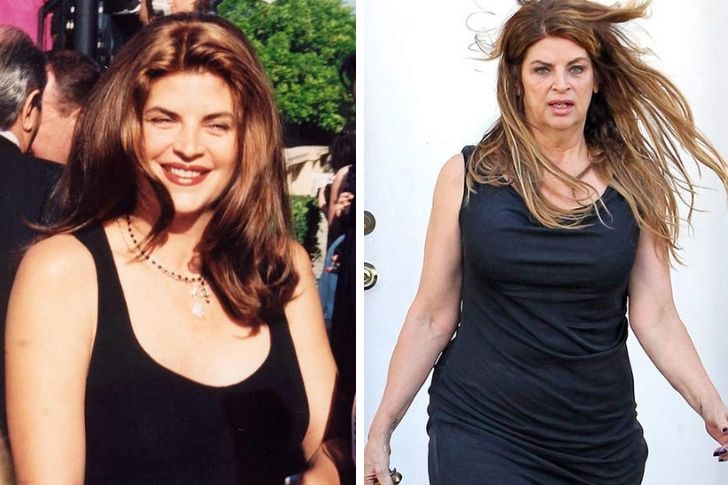 Kirstie Louise Alley was born in Wichita, Kansas, on January 12, 1951, to Robert Deal Alley, a lumber company owner, and Lillian Alley. She has two siblings named Colette and Craig. Alley graduated from Wichita Southeast High School in 1969. She went to Kansas State University to pursue her degree, but she had to drop out after her sophomore year.
Alley first appeared on the big screen in 1982 after landing a role in Star Trek II: The Wrath of Khan, portraying Lieutenant Saavik, a Vulcan Starfleet soldier. Unfortunately, she declined to reprise the role in the subsequent two sequels, later claiming she was paid less money than she received for Star Trek II. She got her big break when she landed the role of Rebecca Howe on the NBC sitcom Cheers. Recently, Alley helped the crowd that had besieged the United States Capitol during the storming of the United States Capitol back on January 6, 2021. She tweeted that "war hurts," but that it was also inevitable, and that "patriots" should return home because they were in danger.
Shelley Long | Cheers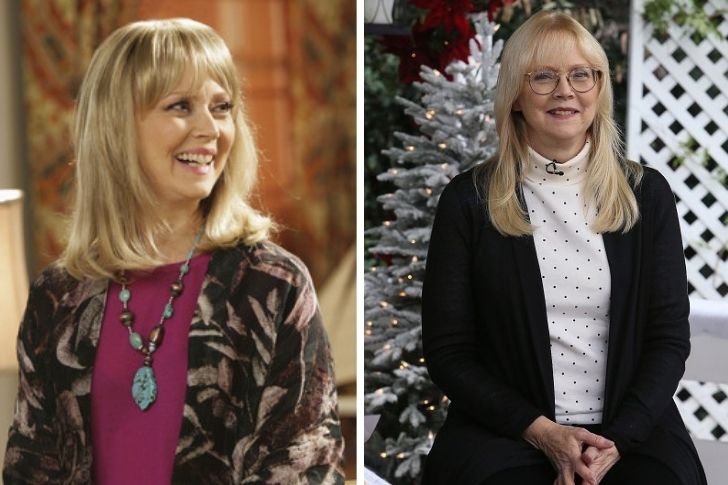 Shelley Lee Long was born in Fort Wayne, Indiana, on August 23, 1949. Her parents are Ivadine and Leland Long. She went to Northwestern University to earn a degree in drama after graduating from South Side High School in Fort Wayne but quit before graduating to pursue a career in acting and modeling. When she started doing advertisements in the Chicago area, she got her first break as an actress.
Long rose to fame as Diane Chambers in the long-running TV sitcom Cheers, where she had a tempestuous on-again, off-again romance with Sam Malone. She then appeared in TV shows such as Holiday Engagement and Falling in Love with the Girl Next Door. She also made a guest appearance on Switched at Birth in 2012.  Aside from acting, she also produces, working on the feature film Different Flowers in 2016, which she also starred in.
Chris Pratt | Parks and Recreation
Before fans started knowing Chris Pratt as Peter Quill or Star-Lord in the Guardians of the Galaxy movie series, he used to be Andy Dwyer in the hit NBC sitcom Parks and Recreation. The show made the now-41-year-old actor a household name, but did you know he's only supposed to guest star in the series? Thanks to his amazing performance, he became a regular cast member.
His addition helped the show become a big hit that he started to be a significant part of it. Although Pratt had a chance at the time to become a phenomenal star, he never left the show. The series made Anna Faris' ex-husband receive credits and critical acclaim, not to mention a nomination from the Critics' Choice Television Award in 2013. It also opened a lot of opportunities for him, becoming a part of the Marvel Cinematic Universe and more, making Pratt the big star he is today.
Tina Fey | Saturday Night Live (SNL)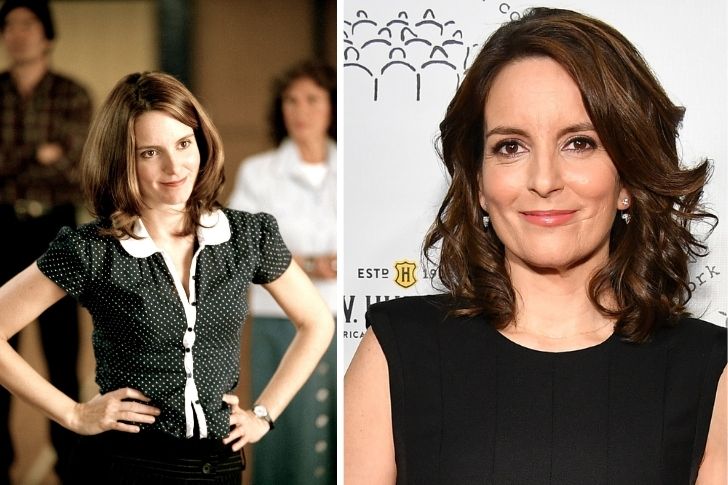 Elizabeth Stamatina Fey, or better known as Tina Fey, was born in Upper Darby Township, Delaware County, Pennsylvania, on May 18, 1970. Her father, Donald Henry Fey, used to write grants for a university, while her mother, Zenobia "Jeanne" Fey, is a retired brokerage employee. Fey attended Cardington-Stonehurst Elementary School and Beverly Hills Middle School in Upper Darby. She then enrolled at the University of Virginia after graduating in 1988, where she studied playwriting and acting. During this time, she was awarded the Pettway Prize. She eventually earned a Bachelor of Arts degree in drama in 1992.
She began appearing in sketches in 2000, and she and Jimmy Fallon became co-anchors of Saturday Night Live's Weekend Update series. With fellow 30 Rock alum Robert Carlock, Fey created and directed the television comedy Unbreakable Kimmy Schmidt in 2015. The series returned with an immersive special on May 12, 2020. The special was well-received by reviewers, and it was nominated for a Primetime Emmy Award for Outstanding Television Movie.
Amy Poehler | Saturday Night Live (SNL)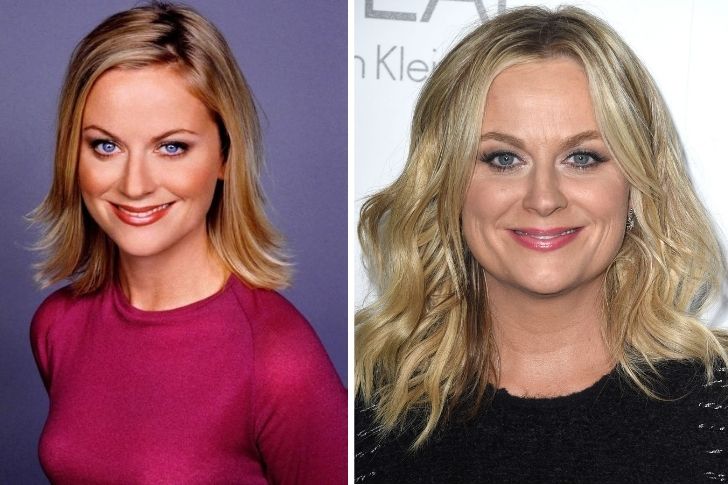 Amy Poehler was born on September 16, 1971, in Newton, Massachusetts, to Eileen and William Poehler, who are both professors. Greg, her younger brother, works as a director and actress. Poehler's parents are from County Sligo and County Cork, but she also has German, Portuguese, and English roots. She was brought up as a devout Catholic. Poehler enrolled at Boston College after graduating from high school in 1989. She joined the sketch comedy troupe My Mother's Fleabag whilst in college. In 1993, she earned a bachelor's degree in media and communications from Boston College.
Poehler eventually joined the cast of Saturday Night Live (SNL) at the beginning of the 2001–2002 season after Tina Fey had attempted for years to attract her. Some of her characters are Hyperactive 10-year-old Kaitlyn, one-legged reality television star Amber, and Bronx Beat talk show co-host Betty Carus.
Anna Farris | Mom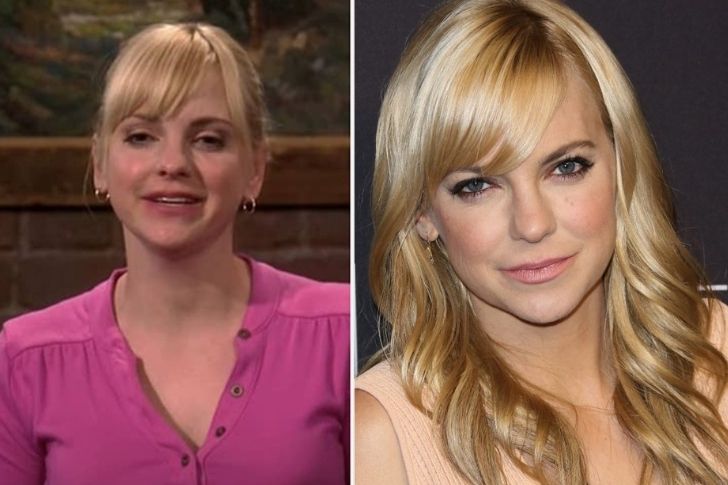 You may know Anna Farris for being part of the Scary Movie movie series back in the early 2000s, but she has also been part of the CBS show, Mom. She played the titular role, Christy, the woman recovering from a substance abuse problem and had a complicated relationship with her mother, Bonnie, played by Allison Janey. Fans loved its complicated story to a full degree, but when the 44-year-old star left the show, the network decided to cancel it.
Her departure left a massive void on the series that no one could replace. Chuck Lorre Productions and Warner Brothers even released a statement, saying she's the first and only choice for the role. The series ended a season after she left. Now, fans are waiting to see more of Farris. Although she has no new TV series yet, she's about to be seen in the new movie, Summer Madness, which is now in pre-production.
Julia Louis-Dreyfus | Veep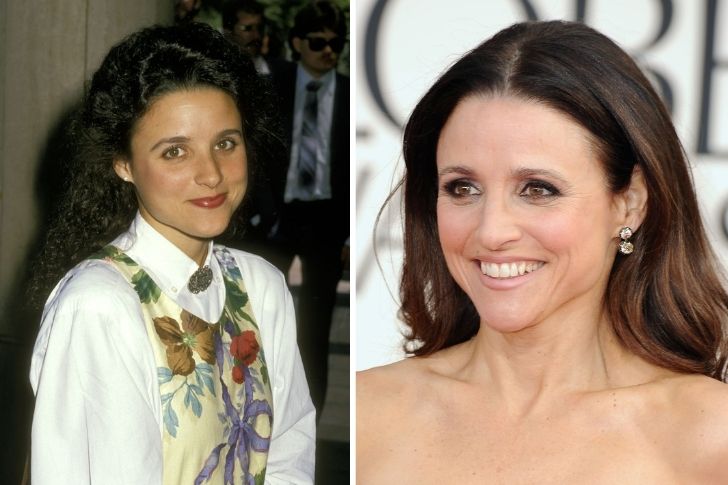 Julia Louis-Dreyfus has made a huge name for herself in the field of comedy. She is famously known for her works in Saturday Night Live, The New Adventures of Old Christine, Seinfeld, and, of course, Veep. In the iconic Seinfeld, the now-60-year-old actress played the role of Elaine Benes, the ex-girlfriend and best friend of Jerry, played by Jerry Seinfeld. She's also friends with George, portrayed by Jason Alexander, and Cosmo, played by Michael Richards.
On Veep, her fame grew to an incredible degree when she played the role of Vice President, who eventually became the President, Selina Meyer. Louis-Dreyfus didn't only simply win an award for her role, but she made history with her sixth Emmy win for the same role—her eighth in addition to her previous awards. The show also won three consecutive times for being the Best Comedy series, aside from the cast, production design, and cinematography honors it received, proving how great a show Veep was.
You've Reached The End